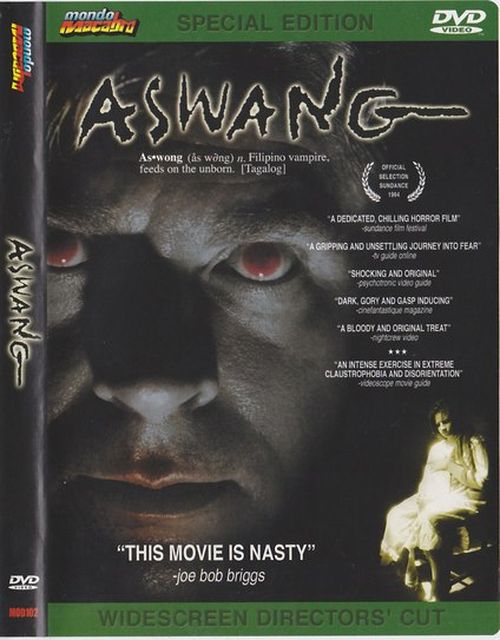 Year: 1994
Duration: 01:22:25
Directed by: Wrye Martin, Barry Poltermann
Actors: Norman Moses, Tina Ona Paukstelis, John Kishline
Language: English
Country: USA
Also known as: Das ultimative Böse, The Unearthing
Description: Katrina – a young girl . One would be sad . But , she unexpectedly pregnant by her boyfriend . The guy does not want the child and offers her money for an operation . Girl sent him to hell and found gold compromise: it enters into a contract with a wealthy young man, for whom will bear the child. Together with him she was going to his estate. Arriving at the house, she met with the mother of Peter , which happened very sick woman , and a servant Eastern appearance – is a strange woman , but like nice. Little things that did not initially strongly strained Katrina began to grow into big problems.
Review: For your viewing pleasure I present to you an American movie Aswang about a Filipino vampire that likes to suck the blood out of a pregnant woman's unborn fetus. Good bloody fun, very atmospheric despite the obvious low budget. I ripped this from my own DVD using FairUse Wizard at the highest quality settings and encoded in Xvid format. Enjoy!
American horror film " Aswang" ( also known as "Hell creature" or «Unearthing») – another proof that the value of the film does not depend on its budget.
First, the ancient Asian legend on which it is based , clearly distinguishes the " Aswang" against the background of numerous horror stories about vampires, werewolves and other evil spirits – both American and European . Secondly, it is not so much a movie about mythological monsters , but about family relationships, about maternal instinct , the desire to survive at any cost. That made ​​heroes of the film in order to survive, not their fault – just that is their nature, and there's nothing you can do about it .
By acting, artistic and technical design and painting have no complaints. The original opening titles . A few frightening moments , underline the appropriate musical accompaniment. Successful ending, giving a glimmer of hope for a sequel.
In general, this movie is a spectacle quite daunting . Movies about family, but not for family viewing.
Screenshots:
Download: