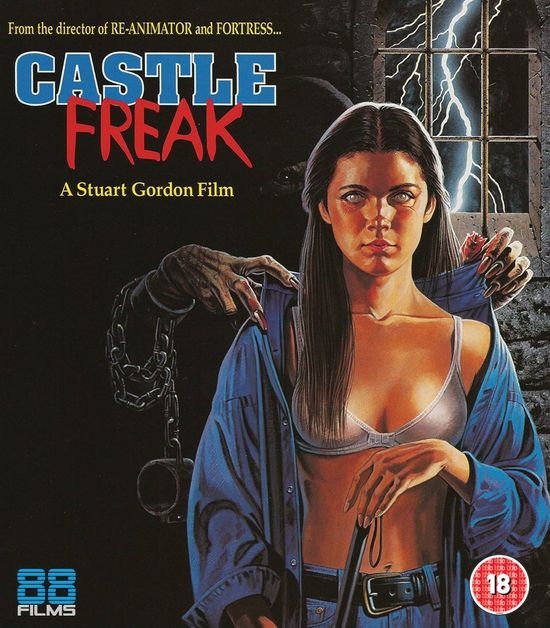 Year: 1995
Duration: 01:35:17
Directed by: Stuart Gordon
Actors: Jeffrey Combs, Barbara Crampton, Jonathan Fuller
Language: English|Italian|Swedish
Country: USA
Also known as: Castillo maldito, To frikio tou kastrou
Description of Castle Freak:Another attempt by Stuart Gordon (Curse of the Crimson Altar) to make a film based on the works of HP Lovecraft, and quite successful, bloody and entertaining. The picture was a success, in almost all its positions it is flawless: there is great suspense, which is manifested in a whole heap of intense scenes throughout the film, there is a lot of violence, ranging from the brutal dismemberment of a cat, ending izgryzaniem female breast and a fall from the roof, where amazingly beautiful sounds of music the end credits, as well as tried and masters of make-up that created an eerie image of a monster.
The cast is pretty good. As always, if the film takes off Stuart Gordon, it means there has Jeffrey Combs. A role he has played very well, clearly revealing the character and his character. But others are far behind in this regard. In addition to the main character-open the other characters will not name. Yes, some are trying to tell the audience about them, there are even monologues, reflecting the inner world, but a full demonstration of character is not observed, although the actors play a very dignified. Not very clearly the police, it is not appropriate to their roles, spoiling the film somehow incongruous presence and irrelevant remarks, I am silent about their behavior. Maid in the house of the same character is quite a gray, it is not clear what is present in the script at all. The secondary characters were quite vague, not memorable, without the charisma and charm, what a significant blunder creators and in particular casting. You can in fact it was really a memorable cops, or at least a charismatic bartender. But, unfortunately, did not turn out as we would like.
As for the plot of Castle Freak then is nothing much to say, it is extremely linear. No side of the plot lines are not observed, a family lives of three people in a house where a terrible wound up in the basement of an ugly monster. Sometimes very reminiscent of an old Italian movie "Ogre" (aka "The Giant"), who came as "Demons 3" at the box office. Here, however, the dreams / hallucinations are not paid attention, but there are different memories of the past, tormenting the hero in his dreams.
Screenshots:
Download: