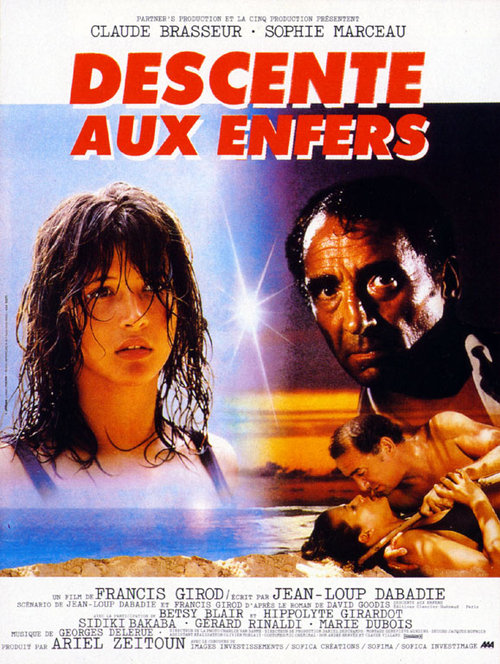 Year: 1986
Duration: 01:25:22
Directed by:  Francis Girod
Actors: Claude Brasseur, Sophie Marceau, Betsy Blair
Language: French
Country: France
Also known as: Äbstieg zur Holle, Descent into Hell
Description: A middle-aged , balding and heavy drinkers writer leaves with a young and beautiful wife in Haiti , where he hopes to save the marriage and love. But every night he gets drunk , and his wife is missing one . In the end, she is given a young man living in the same hotel. Husband found out about it , even more drunk , but in the city. Some Negro saw how he tried to pay , shaking bundle of money , and attacked him in a dark alley . Defensively , the writer killed the attacker with a broken bottle . This incident saved the relationship between spouses. Wife did everything to help her husband , burned the bloody clothes , jewelry sold to pay off blackmailers . Herself haunted by memories , which she did not tell anyone …
Review: Magnificent French film shot in the spirit of detective novels 50s. When you look at this picture , it seems that you read the book. It has all the ingredients of the genre – a femme fatale murder, blackmail, mystery and a sense of danger .
Pretty cool story begins , is replaced by a disturbing atmosphere of mystery , reaching the end of his paintings climax. But despite the apparent simplicity , the film is very catchy.
Particularly struck by Claude Brasseur game . He is better than ever . Also in the film is very attractive and sexy Sophie Marceau . She exudes femininity .
It was interesting to watch the metamorphosis of acting duo Brasseur Marceau, who played before in the two parts of the " Boom ", the father and daughter. Here they are very convincingly played a married couple in which the outward calm hiding long-standing problems .
In the film, a very beautiful picture. White sand beaches and Haiti, as well as possible shade beauty young Marceau and give an exotic flavor of this picture .
Screenshots:
Download: