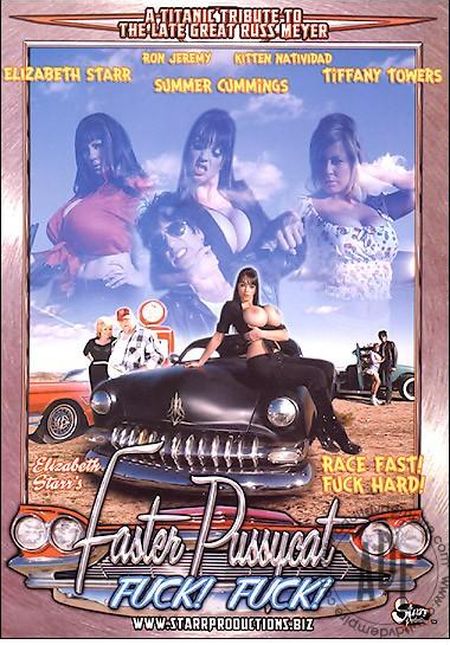 Year: 2005
Duration: 01:50:07
Directed by: Elizabeth Starr
Actors: Summer Cummings, Tiffany Towers, Elizabeth Starr
Language: English
Country: USA
Also known as: Faster, Pussycat Kiss! Kiss! (Germany TV title)
Description: Three go-go dancers go on to seek thrills and escape the kind of men usually coming to their shows.
They cross paths with a young couple in the desert and challenge the guy to a race.
The girls win the race and take the girl as their prize to do with her as they please.
But their reign is about to be put to the test as the dancers encounter a group of hillbillies.
Company Starr Productions has announced the release of Director Elizabeth Starr (Elizabeth Starr) "Faster Pussycat Fuck! Fuck!", which is reminiscent of the work of the producer yesteryear Russ Meyer Russ Meyer)
The contract girl Starr Productions summer Cummings Summer Cummings plays the main character of pussy a La Moore (Pussy La Moore), the leader of the trio sexually insatiable strippers who like fast cars and race with all who defy them. Three Busty PUSSYCATS encounter a young couple, and participate in races, the winner has the loser.
After the guy brought them to unconsciousness, they hold his helpless friend, and arrange with her shameless sexual fun. But soon the "cats" comes across a worthy opponent when they stumble upon a hot family of southerners, who themselves take them in turn.
In five sexy scenes involved the singer with big busts, including the legendary Tiffany towers (Tiffany Towers. The video also includes the first oral execution Cummings.
Starring: candy Cox (Kandi Cox), Daphne Rosen (Daphne Rosen), the kitten Natividad (Kitten Natividad), Ron Jeremy (Ron Jeremy), the long Rod (Long Rod), dick silver (Silver Dik), Dexter (Dexter), and Larry Blueballs (Larry the blueballs the).
The original Meyer film "Faster, Pussycat! Kill! Kill!", considered a cult classic, was released in 1965.
Screenshots
Download