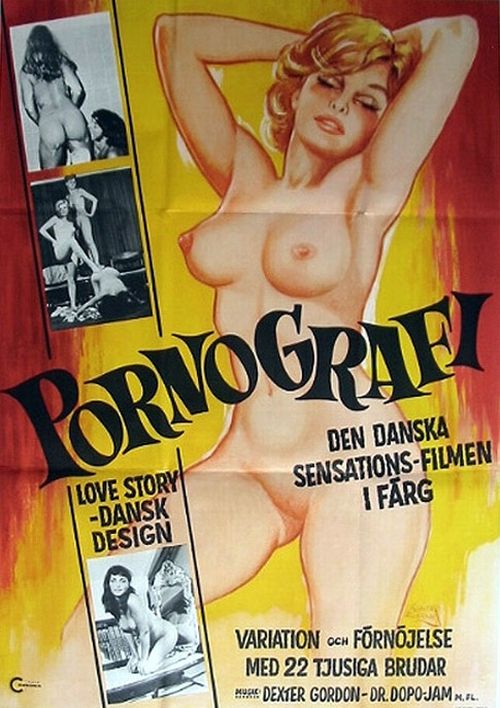 Year: 1971
Duration: 00:53:52
Directed by: Ole Ege
Actors: Ilse Damsgaard, Kenny Drew, Dexter Gordon and Bent Rohweder
Language: No spoken Audio
Country: Denmark
Also known as: Pornografi – en musical
Description: The following movie from 1971 "Pornography" was the first x-rated "musical" to be premiered in Danish cinemas. The title is quite misleading. Other than the cool soundtrack by jazz great Dexter Gordon there is nothing very musical about it. It features 10 hard and softcore short films by photographer and director Ole Ege, shot before and after the liberalization of pornography in 1968-69.
Including such silent Ole Ege gems as: The Dream Girl (1966), Harem, Spanking (1970), The Pornmodel Ilse (1969), The American Girl (1970) and The Jolly Shave (1964), Crazy Strip (1966), Three Lively Girls (1964), Group Sex (1969), Springtime in Tivoli (1969). All the shorts were shot when porn was illegal so there's an added naughtiness to the proceedings. One thing that's constant about Ege's short-films is that none are at all completely tasteless and it's apparent with his craftsmanship that Ege's as much an artist as he is a pornographer. Sorry….none of the bonus material described on the box.
Dansk feelgood porn from the Roaring 70s!
With specially composed soundtrack by jazz legend Dexter Gordon!
1971 featured porn pioneer Ole Ege Pornography – a collection of erotic short films recorded during the years when pornography was released in Denmark. The reactions were not long in coming: the initiative was hailed by its critics, and the film did smash the Wet Dream Festival in Amsterdam. Today they released porn on a conveyor belt and because the collection is more relevant than ever, not only as a historical document, but as a unique example of a genuine sexual pleasure.
Screenshots:
Download: