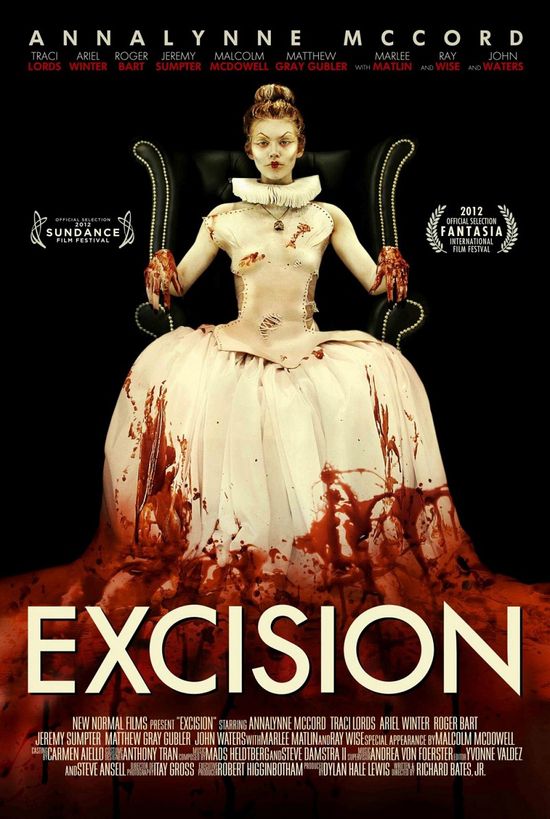 Year: 2012
Duration: 01:21:16
Directed by: Richard Bates Jr.
Actors: AnnaLynne McCord, Traci Lords, Ariel Winter
Language: English
Country: USA
Also known as: –
Description: A disturbed young girl that does not fit into her high school, dreams of becoming a surgeon to help her sick sister.
However those dreams are of a very particular nature, full of blood and impossible surgeries.
Those dreams are what excite her and  that only enlarges the awkwardness with which she it looked at for, at the same time, she is dealing with the sexual discoveries according to her own very special desires.
Her rebelious nature is moved by a somewhat warm heart, which make her good actions have a very bizarre concretization in the end.
Review: «Excision» bit strange translated here as "Circumcision." Although, in my opinion would suit "excision" – one of a word in the medical sense. "Circumcision" a little distracting from the film. When trying to remember the name of the movie, if we compare with the plot "Circumcision" is that the head can not come at all.
About the movie. The film excites. Only one trailer so I went into the soul, that I thought that I saw a long time. No ordinary film about teenage Pauline, who has a "small" problem with the perception of the world and themselves. From the first minutes it is clear that the girl is strange pathological passion for blood, sexual arousal to the corpses, that is, necrophilia, is attached. Her luscious, contrasting dreams cause her to wake up in sexual arousal. Despite its appearance hunched, pimply girl Pauline pretty confident, or who knows what he wants and does the trick. I have a sister, Pauline Grace cute, little angel on all agree, the favorite of my mother, but she was sick one of the worst diseases of cystic fibrosis. Mom girls in the film is also very interesting character. Everything under control, afraid of something different. She's trying to learn to understand Pauline, studying the literature on adolescents, but the education of itself does not give her a chance to have taken this "foreign" information and as a hostile element is removed from her head, her back to the original rejection of her daughter. The pope in the movie limp doll, does and says what he dictates to his wife, perhaps because of the belief that girls should foster mother (such as "Sybil") thus takes off all responsibility.
Pauline has feelings for my little sister Grace, but there probably is not a sister love, and love as a patient, because Pauline longing to become a surgeon. She was walking lessons, sitting in the library studying the literature on cystic fibrosis, to help her sister. What happened in the end, it was very natural and at the same time it was hard to believe what is happening, because it was too shocking. I end up thinking that someone or something is still interfere in what is going on, but my expectations were not met. Last film footage permanently etched in my memory.
Little to say about the actress who played a major role Annelinna McCord, I watched TV series in which she starred, and did not see it until this film anywhere else, but it is the case when, no matter what monster to not want to create something in it it was all the same, that attracted and the fact that she is a talented bezzagovorochno. I recommend the film to be viewed. I can not say that the film, for any given "movie gourmet", but all in a row, he just does not like.
Screenshots:
 Download: