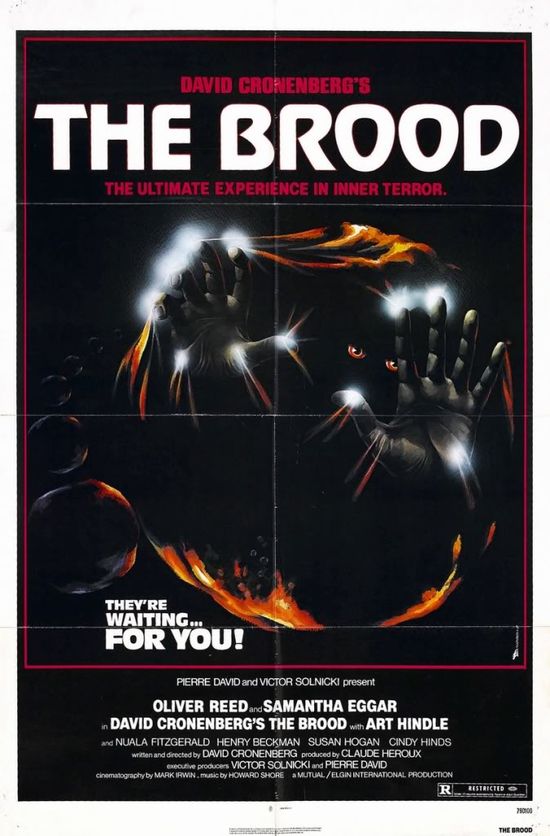 Year: 1979
Duration: 01:32:24
Directed by: David Cronenberg
Actors: Oliver Reed, Samantha Eggar, Art Hindle
Language: English
Country: Canada
Also known as: Die Brut, Chromosome 3, Brood – La covata malefica
Description: Frank Karvet concerned for his little daughter. When he brought Candice on the weekend to psychological institution, where cures her mother Nola, and found a wound on the body of the girl. He drove Candice to the mother of Nola, but the strange little creature kills her, and the girl is sleeping and not remembering anything. After another murder police can obtain a copy of the mysterious killer. In his mind it is clear that he is man-made. So what Dr. Raglan is doing with these people?
Review: The film "Brood" is incredibly entertaining. Like a lot of reviews, articles and comments to the works of Cronenberg (Rabid and Scanners) that I read after watching these. Well, it is commendable that the audience is interesting to understand and dig, good, here is where to dig. Not to say that I am directly and profoundly penetrated into the wilds kronenbergskoy philosophy. But for the fact that I have fully enjoyed his psychopathological frightening images, different versions of which are saturated with each of his offspring, for that, I can vouch.
Here before us is a fantasy on the theme of the destructiveness and the Freudian death wish, which are suppressed for years, produces horrible creatures, who gained in the film fit. These little monsters, the children of the human unconscious patient, and in this case, and even women, hysterical, doubly sick, escaping to freedom can finally win back the world to stand up to them.
This confrontation between the inside and the outside, between the conscious and the unconscious, between man and the environment, and the film became the main frame. Layered on that horrific images of child ugly, provocative scenes favorite Cronenberg authentic cruelty, human conflicts, overt aggression in the female incarnation, I would say no misogyny and sexist. And all this is formalized as a new method of psychodrama. Generally, Cronenberg's crazy fantasy. Every time something new. I am for the imagination!
I advise you to see "The Brood", not only because of this intrigue, but also for other reasons.
Reason 1. It is very stressful to the oppressive atmosphere of the film, which (alas) not in most modern thrillers and horror films.
Reason 2. The director has created one of the best metaphors that reflect the origins and the nature of evil.
Reason 3. The idea of ​​the film is largely inspired by the changes in the personal life of the director. As far as I know, Cronenberg filmed during his own divorce proceedings. So amateur psychologist (and professionals) will be interesting to analyze how divorce affects the human psyche. This material is for the whole thesis!
Obvious shortcomings of the movie is not. Let me just say that he is an amateur. First of all, because Cronenberg avoids literal and leaves much unsaid. So fans of the films with unique unlocking the mysteries of "The Brood" is hardly necessary to liking.
Screenshots:
Download: