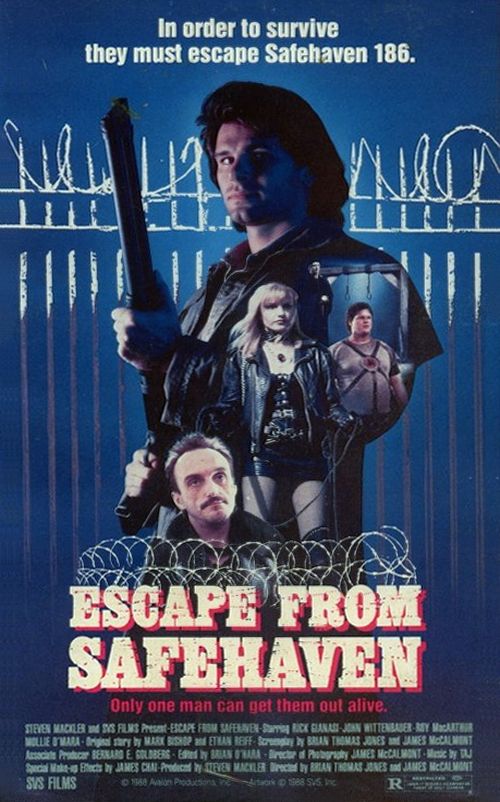 Year:  1989

Duration: 01:35:00
Directed by:  Brian Thomas Jones, James McCalmont

Actors:  Rick Gianasi, John Wittenbauer, Roy MacArthur

Language:  English

Country:  USA

Also known as:  Bloodscape, Les rescapés du camp 186, Infierno en Safehaven

Description:  In a post-apocalyptic world, a family of Colts seeks refuge in the legendary community of refuge Safehaven, which is protected from the outside world by a wall and armed guards. However, once they get there, they discover that the guards of this community jailers, and all settlement — a concentration camp where people are brutally oppressed. But there is a resistance movement which newcomers are seeking support and asking for help.

Escape From SafeHaven (1989) post apoc sci fi action, basically a western stuffed in between post nuke hand wringing.
Troma fans will be happy to see Rick Gianasi (KabukiMan), William Beckwith (Tromea and Juliet) and Jessica Dublin (Troma's WAR!!!) in key roles.
In a minor part is Jessica Tuck (Chasing Amy, True Blood) as a hench woman who get's nailed (larf larf).
Not bad, cruel and bitter and claustraphobic it will make you dread the future of 1989.
Screenshots
Download