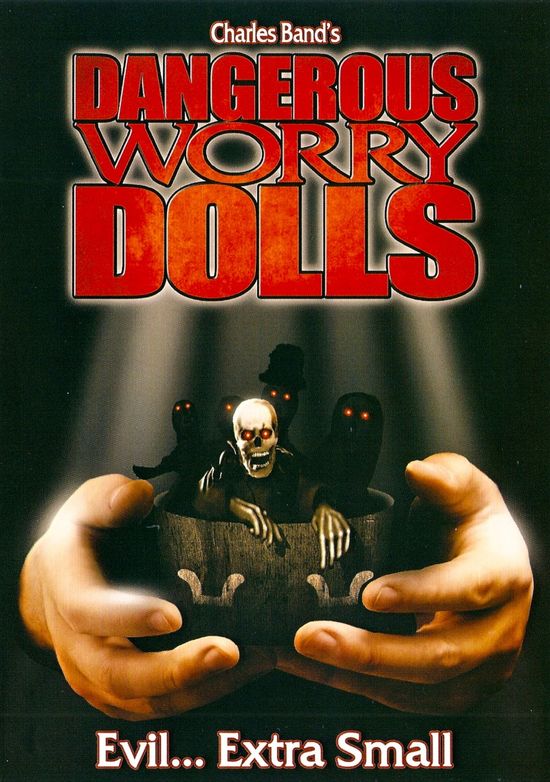 Year: 2008
Duration: 01:15:01
Directed by: Charles Band
Actors: Jessica Morris, Meredith McClain, Paul Boukadakis
Language: English
Country: USA
Also known as: Dangerous Chucky Dolls, Deadly Chucky Dolls – Puppen des Todes, Les geôles du diable
Description: The main heroine is serving time in prison, often encountering attacks on herself by engaging in fights with gang members, suffering violence, seeing the humiliation of the weak ones and all this dangerous situtation…  When her comes to visit a little girl, she gets a special gift in the form of very small (no more than a little finger) of several worry dolls in the trunk. According to the girls, they are magical and can remove all anxiety if the night to put them under my pillow and sleep.
One day, she was abused by guards, tearful heroine falls asleep with her dolls, and suddenly they are not there in the morning, and she had the courage and the strength to resist is all! But there is a special price – puppet skeleton lodged in her forehead, often getting out through the skin and giving  bloodthirsty commands…
Review: As is well known studio «Full Moon» tightly and efficiently specializes in assorted killer dolls and embodies the bright and unusual ideas similar subjects. And now Charles Band gave another horror story on the doll theme, just do a bias towards less mysticism and more human evil, and especially women. For convenience, is to tell a short story line beginning shortly.
Actually the first half of the film takes place in a demonstration of bullying the girl, her futile attempts of opposition, when, after we see the unwavering character singles, by the mystical presence of small demon in the head. Begin and murder, and the change of poles "aggressor – the victim," and so on.
Some touch of continuous negative contrast displays one of the positive caring guards felt tenderness for the main character, and also fear for her behavior. Directed mostly conceals the rest of the presence of the irrational in the real world, doll normally sees only the audience, and the rest only metamorphosis forehead girl.
In fact, the movie in general, I would not call it a success. It turned out a little better than the recent "ticky-tacky" opus studio Charles Band after the millennium, such as "Killer Eye: Halloween Haunt» («The Killer Eye») or "Decadent Evil». Dangerous Worry Dolls saves a drama acting and situation where it can demonstrate, in contrast to the above named couples featureless creations. The emphasis is on people rather than on explicit horror, but the screen is quite good for a few bloodlust spectacular scenes. Often characteristic humor «Full Moon» not at all, we have before us a dramatic story with stern small fraction of mysticism, but a sign for a bar story.
Defined sets. They recently part of the "lame foot" studio «Full Moon». Now the correctional facility looks simple building with corridors in shades of gray, and the room for the prisoners – a spacious room with rows of single-story bunks, and the actors and extras in the background in a couple of dozen, which clearly gives the illusion of faith in realism. Guards in the form of generally minuscule. That is, the entourage fail. Grim poor, however, and it is spelled out a little.
More to say about this film, nothing is impossible, it is extremely simple, minimal, even predictable, and often implausible. Curious efforts actresses metamorphoses revealing the nature of the heroine, a raid of magic in the "gray" of reality, and a drop of funny nonsense, because you see, whether you are a warden who notices contained in a huge lump in the middle of an unnatural red forehead with something strange protruding out, it is clearly to undergo a medical examination, but even here all is fine.
Definitely a movie Worry Dolls to watch only prepared for featureless spectacle of no hope, I told a little bit, and a long-time viewers of the works of Charles Band's studio, but in any case he was shooting much better: bold, fun and dynamic. And for everyone who wants to look brutal true story of women prisoners (not to be confused with a different kind of operation «Women in prison», only it is not here) to get round.
Screenshots:
Download: