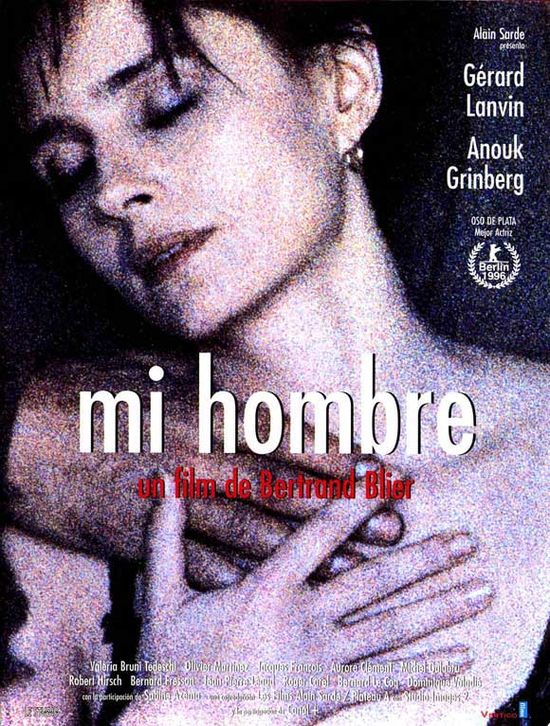 Year: 1996
Duration: 01:35:07
Directed by: Bertrand Blier
Actors: Anouk Grinberg, Gérard Lanvin, Valeria Bruni Tedeschi
Language: French | English Subtitles
Country: France
Also known as: Mon homme (original title)
Description: Marie is a prostitute who loves her work, giving herself with full intensity to all costumers.
A night she has an act of kindness and takes a homeless man to her apartment where she offers him a hot meal, a place to sleep and finally herself.
She falls in love with that man and uses her work to give him a proper life.
But as their relationship grows, he starts to feel unsettled by having to leave the house so she can work.
The larger apartment she buys solves nothing, and he goes around seducing a manicurist and convincing her to prostitute herself for him.
He ends up arrested for soliciting and at that point Marie must decide what she will do with her life.
 Very original film. The main character "My Man" – a prostitute who is proud that gives people love. One day she came home and saw a homeless man . Sorry , sheltered , fed , and made him her pimp . But he quickly got used to the new role , expensive clothes , trips to salons that even got himself a mistress on the side, which also tried to recruit prostitutes . In short, the theater of the absurd .
All the characters are so exaggerated that look cartoonish . Is a person in their right mind would lead to his home bums and will be giving him all the money , because they are suffering from loneliness and need of human warmth after work ? Or another lady who agreed to try yourself in the role of a prostitute for love. Pure farce ! But it is in this comic and is the highlight of the film. This is a parody on human interaction .
Of the actors I only familiar face Olivier Martinez. Others either never seen before or do not remember . If you like farcical tragicomedy with elements of eroticism , I advise you to look at. If you want to see serious drama , you should look for something else. For originality put …
Screenshots:
Download: