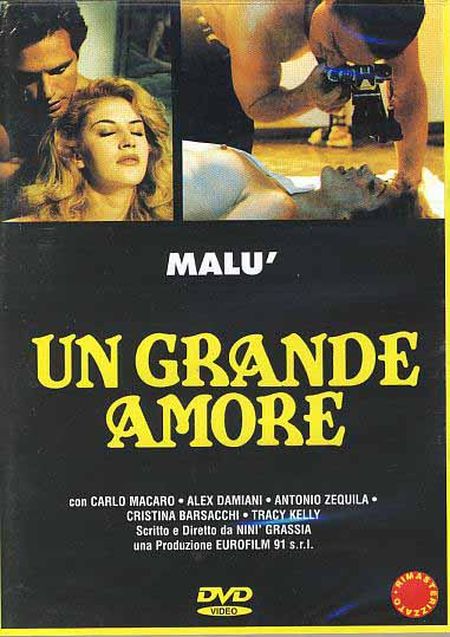 Year: 1995
Duration: 01:21:55
Directed by: Ninì Grassia
Actors: Malù, Alex Damiani, Antonio Zequila
Language: Italian
Country: Italy
Also known as: – 
Description of Un grande amore movie: Two couples meet at a spa when they realize their respective suites share a bathroom.
Joe is there with his wife Fay so he can relax from his work and recover his stamina for Fay's sexual demands have made him practically impotent.
As for Nick and Lucy, she is always at his throat for her jealousy makes every other woman into a potential rival.
It is not until a third couple arrives to the spa that the real trouble starts.
Lou and Rose are newly-weds that won a week at the spa. But they are booked into separate rooms. When they try to consummate their marriage the other couples get in the way.
A major tragedy is finally averted when a couple of Swedish swingers, Ole and Inge, save the day with their wisdom and open-life style.
"When two couples vacationing at an exclusive spa find themselves discussing adjoining rooms with only one restroom, we set up a scenario with a lot of possibilities. Joe along with his wife Fay are taking a getaway to help Joe conquer the anxiety of his company, which is compounded by the proven fact that the sexual needs of Fay have made him virtually impotent. Nick and Lucy possess the opposing issue compounded by the proven fact that Lucy is insanely jealous and sees every girl as a conceivable opponent. If that isn't enough, the arrival of newly-weds Lou and Rose, champions of á one-week vacation at the spa for their honeymoon, is complex by the proven fact that, through a computer system mistake, these are typically scheduled into two separate single rooms. In some way, their efforts to consummate their marriage set them on a collision course using the other two couples. A major tragedy is ultimately averted when a couple of Swedish swingers, Ole and Inge, save the day with their wisdom and open-life style."
Screenshots:
Download: