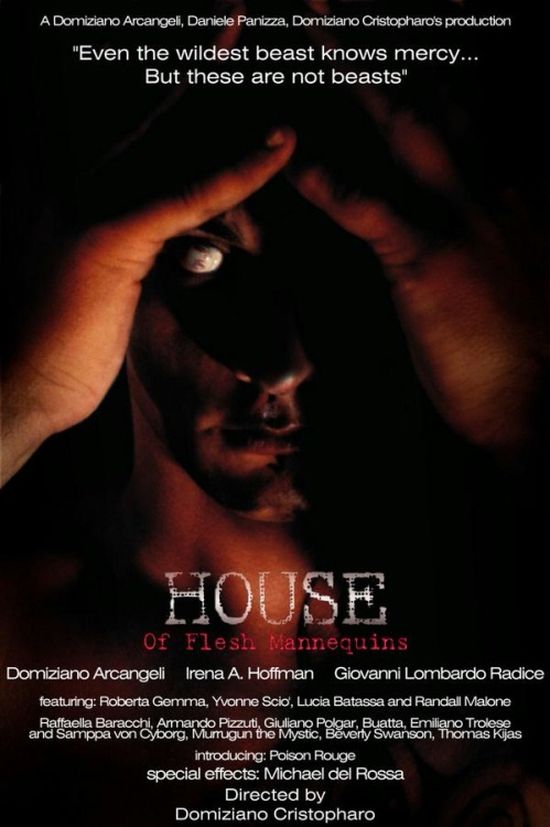 Year: 2009

Duration: 01:40:52
Directed by: Domiziano Cristopharo
Actors: Domiziano Arcangeli, Irena A. Hoffman and Giovanni Lombardo Radice
Language: English
Country: USA
Also known as: 
Description: HOUSE OF FLESH MANNEQUINS (which will from here on out be referred to as HOFM for obvious reasons) is quite something to behold.  A film that has every sensibility of the most traditional 1970's Italian film productions; it's still referenced as an American movie.  Despite the numerous Italian names attached to the movie's credits:  it is not awfully dubbed and exists frankly, in a world that defies any cultural bias.  It's a film that's climbs slowly, awkwardly, and sometimes quite amateurishly toward it's incredibly perverse and grotesquely violent third act.
The base narrative involves Sebastian taking graphic photographs of accidents, murders, tortures, and a variety of other human sufferings.  He apparently works for a deeply disturbed man (Cannoluti) that uses a newspaper stand as a front to peddle a wide variety of vile and illegal photos, magazines, and videos.  It's not really clear as to whether or not Sebastian enjoys his work.  He is clearly not well and as the story unfolds we learn enough about his childhood abuse to see what is driving him.  The real lynch-pin to the film is Sarah.  A tenant in the same apartment building that Sebastian inhabits, she is intelligent, beautiful, broken, and desirable.
Once Sebastian and Sarah begin their "friendship" things get really, really odd and perverse.  Although somewhat begrudgingly, as he begins to share his "work" with her, Sarah herself begins to show a more sinister side and surrenders to the violence and snuff-like world that Sebastian lives in.  There's all kinds of really uncomfortable dialogue and situations to pour over with this one.  It should be noted that professional body modifiers and fetishists were used during the otherworldly torture scenes.  Much, if not all, of what is intended to make the viewer squirm is really happening.  So that means that the cutting, filleting of skin, puncture wounds, and the like are all live and "in the flesh."  With a budget of $500,000, that's certainly one way to keep your bottom line in the black.
HOFM clocks in at around 100 minutes and there are some difficult moments in the first two acts.  Not because of the pace, but because of how awkward some of the characters' interactions can be.  The newspaper man, Cannoluti, is downright painful to watch.  It's hard to tell if his wooden delivery is deliberate, or if the actor is just terrible.  That being said, the first 70 minutes were peppered with just enough quirk and creepiness to pull me along to the visceral brutality that is the third act.  It's an odd combination that doesn't always make sense and doesn't always keep the viewer engaged.  However, it's just original enough for dedicated genre-heads (like myself) that are starved of something different cinematically

Screenshots:
Download: