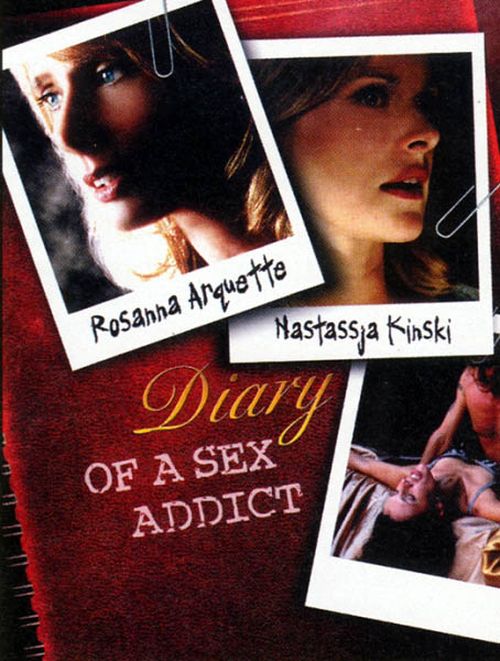 Year:  2001
Duration: 1:33:20
Directed by:  Joseph Brutsman
Actors:  Michael Des Barres, Rosanna Arquette, Nastassja Kinski
Language:  English
Country:  USA
Also known as:  Diario de un adicto al sexo , El diario de un adicto , Viciado em Sexo                                             , Protokoll eines Sexsüchtigen , Seksihullun päiväkirja , Egy szexőrült                                           naplója , Diario di un'ossessione intima , Sex Diary , Pamietnik seksoholika                                 , Diário de Um Viciado em Sexo
Description: Michael Des Barres, former singer with Led Zeppelin wannabes Detective turned actor, stars as the aptly named Sammy Horn, the sex addict of the title. The film consists largely of flashbacks, with Kinski playing the shrink to whom Horn relates his sexual adventures.  In her early 40s at the time of production, Kinski still looks very hot, but unfortunately remains fully clothed throughout her scenes.
Arquette stars as Horn's wife, Grace, largely ignorant of, or at least willing to turn a blind eye to, his philandering.  As the only woman he respects, Sammy finds it hard to perform the empty, meaningless sex he shares with just about every female he meets.  This means Arquette also remains largely overburdened by clothing, with just a quick nip slip hinting at the awesomeness of what she's packing behind her bra.
The sex and nudity are left to a string of lesser known actresses, chiefly Jenícková as Tatiana, one of Horn's semi-regular fucks, complementing the prostitutes and one-night stands used to satisfy his near insatiable libido.  Her standout scene is probably her first, where she and Horn nip off to a pub toilet for a quick shag and manage to make enough noise to have the barman call the police, thinking there's a murder occurring.
The film details the slow disintegration of Sammy's life and relationships as his addiction makes his need for sex ever more urgent, and the sex ever more brutal, leading to the point where Grace can no longer claim, or feign, ignorance of his behaviour.
Not a great film, with the banal dialogue between sex scenes badly slowing down the pace, but not the worst of its type either.  At times the film, very obviously shot on video, has the feel of a porno without the porn.  While largely shallow, it does try to offer some insight into sex addiction as a problem most people would either be unaware of or happy to 'suffer', although I'm sure most viewers would just prefer a sleazefest.
A change of pace, and some tension, is provided by a subplot of Sammy being stalked by a man he was responsible for getting fired, which peters out to a dull climax.  Whether this is meant to be a metaphor for the soulless sex that becomes almost a chore for sex-addict Sammy, or just bad writing I'll leave to you to decide.
Screenshots
Download