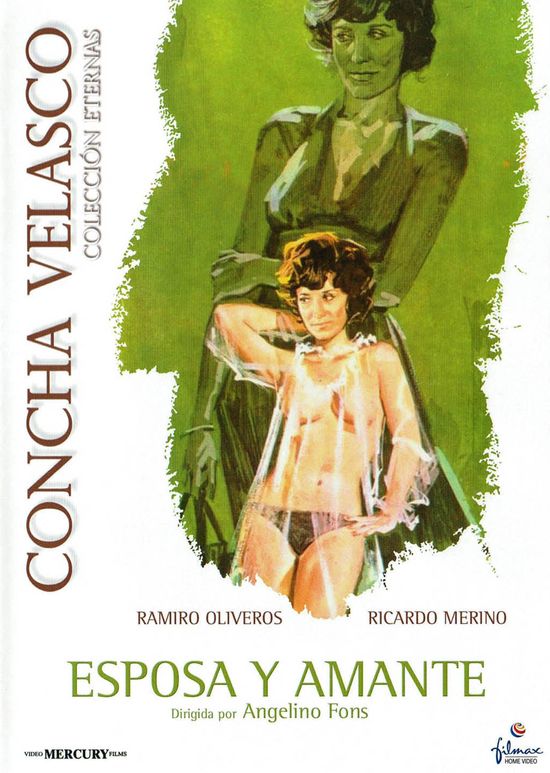 Year: 1977
Duration: 01:38:12
Directed by: Angelino Fons
Actors: Concha Velasco, Ramiro Oliveros, Ricardo Merino
Language: Spanish
Country: Spain
Also known as: Esposa y amante
Description: The film tells the story of this modern Madrid couple in which the husband (a TV sports reporter) jumps to anything with boobs and without moustache, the wife (Concha Velasco) always forgives him to mantain the Status Quo of her life, this until she caught him cheating  with her best friend (its always a problem when it happens with the best friends), she kicks him out of the house, and comes to her senses, realizing that if he does it why can't she, and stars doing it big time with strangers, old boyfriend you name it.
In the process her daughter (Victoria Abril) is the one who is suffering like always, wanting his father back home and family toghether again, this while everyone is screwing a lot, even her best friend is doing it with her father (best friends again), until she can't take it any more.
Like I said a nicely done film, a variation from the usual sex comedies for a change, with some drama and a relevant subject, but with enough skin to make us viewers happy, and everybody does it.
Review: I'm not particulary familiarized with Fons work, saw one typical sex comedie from him, funny but nothing special, in any case find out while searching for this one that he made much different films than the usual classificada ones, even a so it seems hard to find sci-fi flick.
This one is a pretty sophisticated work, an erotic drama still very sleazy but with a complex plot (comparing with sex comedies), its a very modern film for Spain in 1977, dealing with issues connected to the life of modern couples in modern societes. And Concha Velasco one of the Spanish ye-ye queens, is very…erhh let's modern in this film, also one of the first major roles for a very young VIctoria Abril, she was a very lovely teenager by the way, and IMo a very underrated actress, maybe too connected to Almodovar I guess.
The movie is well directed with a smart use of flashbacks, and the actors go well also, got o find out more about this Spanish Director
Screenshots:
Download: