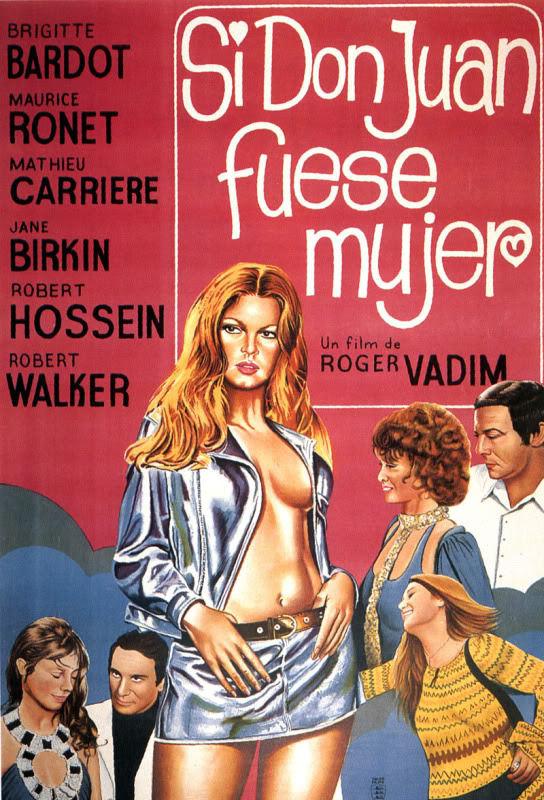 Year: 1973
Duration: 01:35:03
Directed by: Roger Vadim

Actors: Brigitte Bardot, Robert Hussein, Matthieu Carrière

Language: French ( English subs)

Country: France

Also known as: Se Don Juan Fosse Mulher, Si Donn Juan fuese mujer, Una donna come me
Description: If Don Juan were a woman and was living in 1973, it is likely to be so, as the film's heroine Joan. She always knew what she wanted, and always achieved something to strive for – power over men. But it did not bring her happiness …
Review: The controversial role … Merging ingenious ideas, emotions, sense … and misfeeds.
The film definitely present scenario. Watching this film, as if we are living through a few stories with Bridget in the title role.
This role is very different from her previous works, where it appears mostly sweet, not very distant temptress. Don Juan in a skirt, that's synonymous with Brigitte Bardot. This film introduces us to a different Bridget … treacherous, beautiful, vicious. "I'm not a feminist, I love men." At the same time, in this movie, it embodies a gorgeous bitch. Davis, whose "Think like a man, act like a woman." Which she does.
Seduces, and then breaks the hearts of men in the dust.
The film made by Roger Vadim (director of Barbarella and Pretty Maids All in a Row) could be called extraordinary. Brilliant, catchy music, interesting story, but a bit boring places serve. But this is to endure, to wait for the final. Which is shocking, causing emotions and opening up new character traits. He will not leave you indifferent …
This picture is a good example of what the consequences might be expected of people who play violent games with other people's hearts, it can be a picture of a manual for women who want to try yourself in the role of "conquering men" because Bardot is gorgeous.
Screenshots:
Download:
Don Juan ou Si Don Juan était une femme…