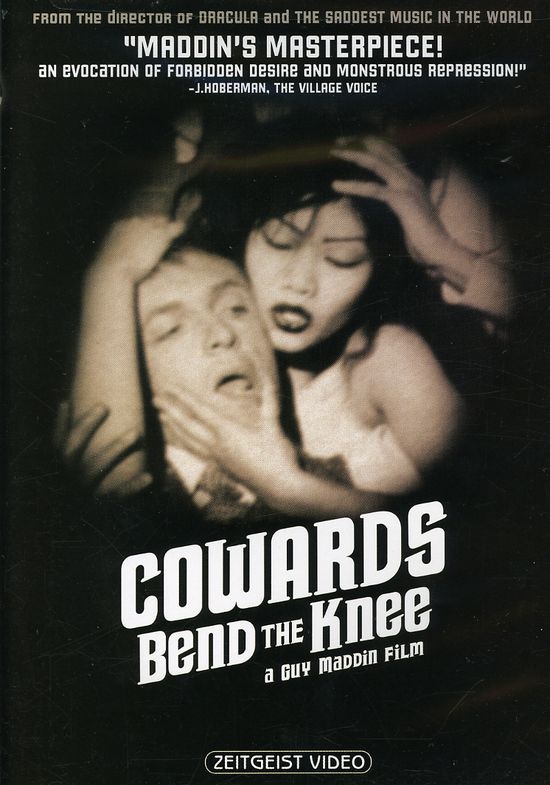 Year: 2003
Duration: 01:03:56
Directed by: Guy Maddin
Actors: Darcy Fehr, Melissa Dionisio, Amy Stewart, Tara Birtwhistle and Louis Negin
Language: English
Country: Canada
Also known as: The Blue Hands, Et les lâches s'agenouillent…
Description: The film "Cowards bend your knees, hands or Blue» («Cowards Bend the Knee or The Blue Hands», Guy Maddin, Canada, 2003), brings us to the phenomenon of retroactive styling, brings the viewer to the fundamental practices of meaning-postmodern ideology. In the post-modern aesthetic and demand set to deliberately borrow from antiquity and still be modern, in order to arrive later this paradoxical situation, where the reception is illusory coincides with identification. Event time desync: stylized past masterful cinematic imitation, or vintage now?
Guy Maddin – as the vanguard of the secular admirer of silent films – appears trivial experimenter in such a traditional and clearly defined style black-and-white Cinématographe. Playing in recitation of immutable canons silent film at every step diluted tricky moves visual "grandmaster". All components of early cinematic canon retouched invisible postmodern color, which makes the picture eidetic masterpiece of postmodern cinema. Take the story of unrequited love, which is completely involved in the post-modern purely autobiographical detail – it is too eclectic and avant-garde of the early globalistichna movie: beauty salon, ice hockey, Dr. transvestite, blue hands, a love triangle, a zombie-killing. This is more like a surreal experience Bunuel than the black and white classics of the last century.
A stunning visuals, lighting delights (the film-presented strange midnight action, accompanied by background lighting a flashlight, as in postmodern horror «home video»), displaying dynamic staging by a discrete change of static shots … again with the thin edge of the visibility of the silent film classic " blue shorts "leads workshops see the brushstrokes of postmodernity. The soundtrack, though thematically and chronologically oriented early XX century, in fact, is a collection of human melomanskim very sophisticated melodic preferences in information period (French romance). That is a choice deliberately eclectic, the choice is not a contemporary musical composition, but evaluating the child, selects the most "cream" of the sound of the past. Thus, each element is represented by the post-modern masterpiece fine recitation of cinematic history with connotative postmodern shift. Hence the film in its entirety is represented as postmodern mythology directors biographical facts and a huge attachment to the aesthetics of silent black-and-white movie. But the main thing – a black and white dotted visualization. Avant-garde artists had always featured a special praxis with techniques of image, a specific focus on the methodology, the way of working with art EIDOS.
And Guy Maddin in "Cowards bend your knees, hands or Blue" moves along this path, trodden modernists a century ago. But due to the deliberate archaism, age-old styling, chronological "backwardness", "glorious son of a Canadian hockey player" can not belong to the best modernist kinohudozhnikov subspecies, as meaning-intention was to use old equipment images – thousands of times canceled, rejected, amended. And this – the notorious characterological quality movement "Postmodern" of the playing field, the global data warehouse, a certain concept of the museum of antiquity, where each component can be obsolete at any time to become a significant "agent" unbroken aesthetic procedure
Screenshots:
Download: