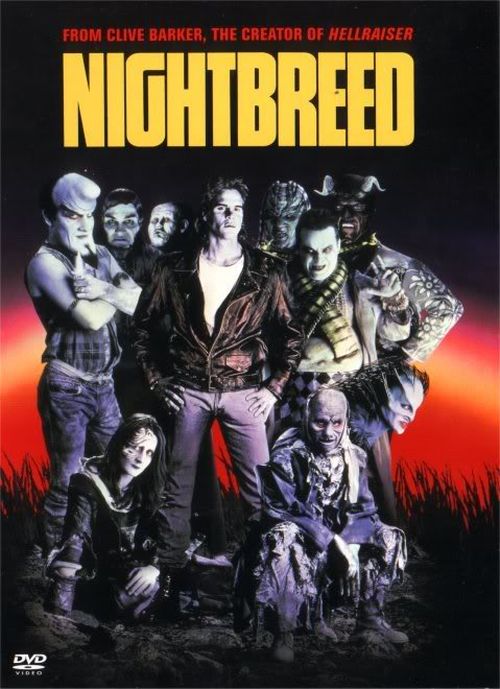 Year: 1990
Duration: 01:41:35
Directed by: Clive Barker
Actors: Craig Sheffer, Anne Bobby, David Cronenberg
Language: English
Country: USA
Also known as: Cabal, Cabal – Die Brut der Nacht
Description: A young man named Boone (Craig Sheffer – Bliss) consider himself guilty of a series of brutal murders. In this he was convinced the psychiatrist Decker. Boone seeks salvation in the legendary Midian, the underground city of fugitives, where all sins are forgiven. This city – refuge of "Night People" monstrous race of ancient monsters – mutants, the living dead, changing their appearance and hiding from the light of day and the human eye.
Warmly greeted by the "Night People" Boone must now put safety above all Midian. And to forget Lori, who loves him and is trying to find. And in its wake are the police and Decker, who dreams to destroy the "Nightbreed" …
Review: The film, which will be reviewed at a time. And this is for a horror movie is amazing. The film stands a good performance of the actors are well and clearly propisaniem characters, heroes, each of them an individual. During this special thank you to Clive Barker, who not only wrote the screenplay for the film, but withdrew it on his own book of his own.
The film "Nightbreed" is addictive, and at once, and once as the disclosure of the characters and the reasons for their actions begin to feel a strong negative attitude towards "normal." Clive was able to show all human qualities, without distorting them. Show so clearly and distinctly that each imprinted in the memory. But most surprisingly, these same as our inherent emotions, characters, behaviors cause a storm of negative emotions and rejection. At the same time, the so-called monsters are guilty only in his physical difference. Once you get up is not noticeable on their side, sharing them. Feeling that they should feel.
It's really a drama. This horror and tragedy that is experiencing the people (no, not the people, and not being, and it is the people or tribe), when their presence becomes known to the inhabitants of the upper world. Anyone know what was coming, and no one can change that, they experienced it more than once in the past hundreds of years ago were the same persecution. But every time they managed to escape, hide, hide. To re-start the crumbs restores their culture, way of life, your home, this time in a new place.
It should be noted good quality spec. efektov and excellent work make-up, it's really something. And when you look at the year of the film's release, it's just admires.
For those who liked the movie and the book will be interesting to Clive Barker's "Cabal" (we published under the title "Tribe of Darkness") is on it filmed.
Review #2: The film Nightbreed made in 1990 is definitely recommended for all fans of K. Barker as director and writer. But not familiar with his work will be pleasantly surprised by the viewer. Barker again won the viewer's attention reliable way – does the original picture is not similar to the others in this genre.
Those who have read his books, I think, will agree with me: the author has a very rich (though gloomy) fantasy that manifests itself in three main things:
1. The world, fantastic, strange, mysterious;
2. Characters, charismatic, has a unique appearance and characteristics;
3. Of course, the story that takes place at the turn of the latest and our fictional worlds (or in both worlds)
If you put three points on all points out, in my opinion, is a fair assessment:
Screenshots:
Download: