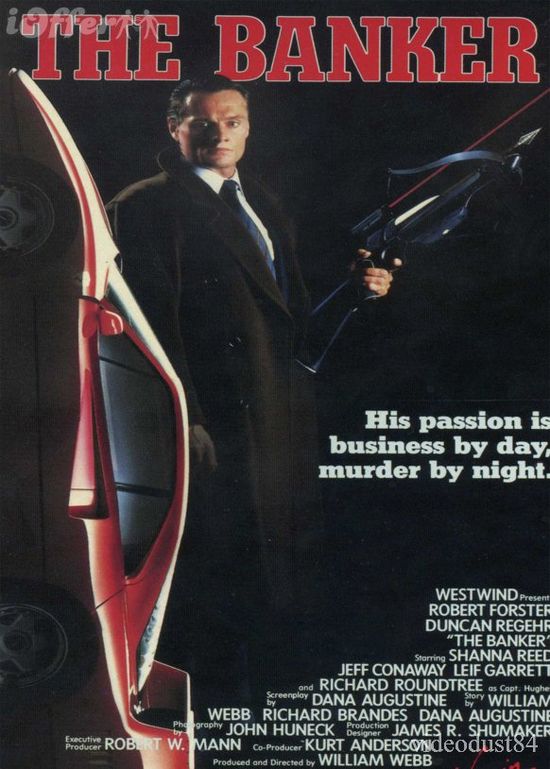 Year: 1989
Duration: 01:31:00
Directed by: William Webb
Actors:  Robert Forster, Shanna Reed, Duncan Regehr 
Language: English
Country: USA
Also known as: Il banchiere, Bankier, Noites do Crime

Description:The multimillionaire from Los Angeles Spalding Osborne's paying big money for its night entertainment. It attracted a cruel game with a fatal outcome.
Hunting for the elusive killer, detective Dan Jefferson gets into the cunning trap to get out from the living can only be one of them.
Review:
I was looking for an old movie about a banker, the avenging the bandits for our children, but found this. Not for nothing this film was released only on video. This movie is much worse than his original ideas. Banker-millionaire lost their taste for life and conducting parallel between the green jungle and jungle stone simultaneously speaking profound phrase – Yes, the idea is good, but the implementation… Yes, "American psycho" was removed only in the 2000-m
Cinema category B. the Actors go, stand in the pose and say the role of the text and when they kiss you moan, as in porn and clumsy foul language to the place and out of place. The microphone on a boom sometimes gets into the frame logic sometimes limping, as a secondary storyline seems to be there. There are some funny moments, but they are not worth watching just this film. Yes, even terrifying serial killer lost Shoe with its gold lighter inside.
Screenshots:
Download: