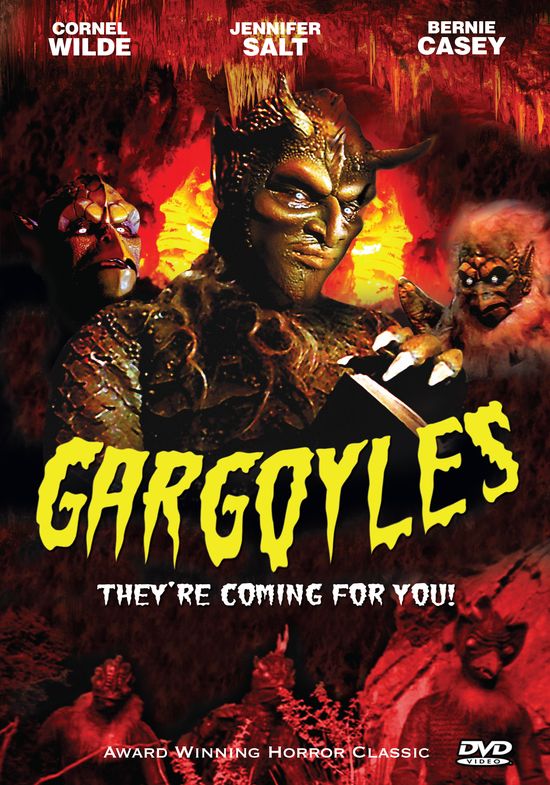 Year:  1972

Duration:  01:14:13

Directed by:  Bill L. Norton

Actors:  Cornel Wilde, Jennifer Salt, Grayson Hall

Language:  English

Country:  USA

Also known as: 
Description:
A professor, Dr. Boley, who studies the occult (to mostly debunk it and sell books) is in Arizona on a trip to study legends from the region.  His daughter joins him, and together they drive out to meet an old man who says he has made a discovery, which turns out to be the skeleton of some strange winged creature.  At first Boley is dismissive, but after the building is attacked, the old man killed, and his car is disabled he suspects that something strange is going on.  It seems that Demons (Gargoyles) have begun to hatch and are trying to remain hidden until their numbers are great enough to attack the human race.  It is up to Dr. Boley and the residents of the local small town to do battle with the Demons, who also have taken Boley's daughter hostage.
Acting is not credible; the characters behave very dierently when confronted with the monsters in between their attacks, going into a pile and slowly lead the conversation about global, who are interested in the history of their origin, works of art, hard left images of winged gargoyles… It's distracting from the total potassium of the story about a small town trapped in the danger with the invasion of bloodthirsty creatures, where people are forced to carry an unequal struggle with them, often redia in their ranks.
But in addition to "cons", there are "pros".
Perhaps particularly pleased with the composition of the plot, where there will be not any only one monster to terrorize people, and as many as several dozen. And don't knock simple as makeup and costumes are gargoyles, and approached them properly, however, mostly in terms of unique goals. The same monsters almost never make it with wool, then the green lizards, with feathers, horns, beak, grotesque semblance of a human face, not ugly animal muzzle, cruise, Hiking…
Screenshots
Download