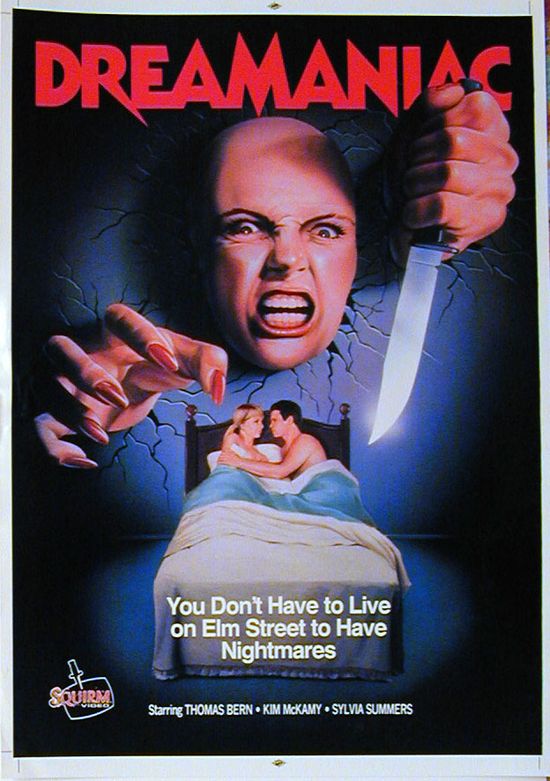 Year: 1986
Duration: 01:22:10
Directed by: David DeCoteau
Actors: Thomas Bern, Ashlyn Gere, Sylvia Summers and Lauren Peterson
Language: English
Country: USA
Also known as:
Description: A heavy metal dude in a Def Leppard shirt manages to summon up a succubus from Hell. His girlfriend and her sister are throwing a party for a lot of lamebrained sorority and frat people.

Review: 80's era SOV horror from cult director David DeCoteau (Blonde Heaven and The Sisterhood). This is actually his first movie but a lot of the elements he is known for was already present. It has some genuinely funny dialogue mixed in with quite a bit of sex and violence.  It was released by Wizard Video as part of their "Too Gory for the Silver Screen" line. I don't know if it really lives up to that claim but it does feature some impressive power drill work near the end.
What it does have to offer is some great 80's humor and fashions. Also, I can't remember any other non-porn movie that has so many scenes of people licking each other in the mouth. Speaking of porn, this is not only the first movie directed by DeCoteau but it is also the acting debut of the young lady who would later be known as porn star, Ashlyn Gere. Recommended for fans of 80's cheese. Includes a trailer after the credits for the Too Gory for the Silver Screen movies.
Screenshots:
Download: