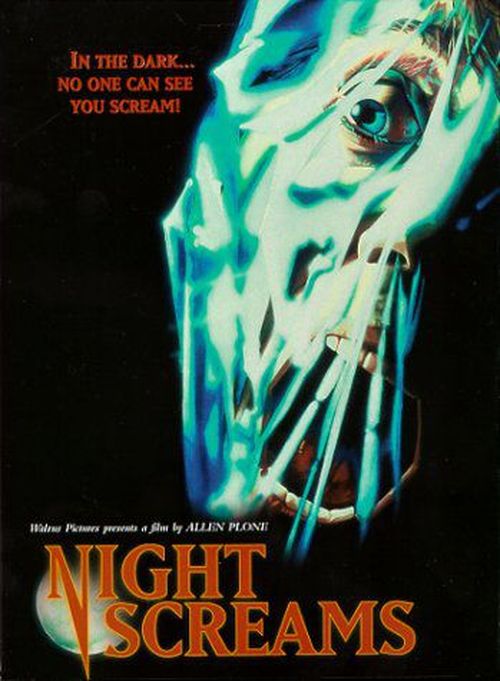 Year: 1988
Duration: 01:28:49
Directed by: Allen Plone

Actors: Joseph Paul Manno, Ron Thomas, Randy Lundsford and Megan Wyss
Language: English
Country: USA
Also known as: Kravges tromou, Nacht des Grauens, Night Screams – Ospiti in Trappola
Description: David is the typical all-American, popular, beer-guzzling, pill-popping jock. When his parents go out of town for the weekend, he decides to throw a wild party (like, duh?)… unbeknownst to he and his friends, a couple of escaped convicts have taken refuge in the basement of David's home… and suspiciously, as the festivities commence, the guests are murdered one by one.
Gore: I was pleased with the high body count here…there's enough slash to help you make it through. People get stabbed with various implements, a girl is crushed underneath a car, a guy gets his face grilled, and in  a particularly funny scene, a girl is electrocuted in a hot tub…none of the effects are all that impressive, but you just have to take that for what it's worth. Seeing some highlights from "Graduation Day" (we get Linnea Quigley's infamous death scene) is a bonus, but one clip in particular spoils the end for those who haven't seen it.
Soundtrack: Some of the WORST cut-rate synth bullshit I've EVER heard in an eighties  slasher movie…people NEVER jammed out to this stuff. One highlight is the scene in a neon dance club, where a band (with not one, but TWO key-tar players) performs "Chill Out" as a dance troupe called "The Sweetheart Dancers" (?) give us a floor show.
Bottom Line: I gave it one star because, and I've said it before, it's not THE worst  slasher movies on the whole…yet it's high contender for being one of the most boring. It is watchable, but only in the most taxing way…avoid if you can, but if you're a glutton for punishment or a die-hard fan of slasher movies, go ahead and chalk another one up.
Review: I think this is a really good slasher flick from the 80's that most people have never seen or heard of. There's a lot of 80's music, fashion, puns, etc. The plot is actually not that bad, and the acting is "mostly" very good considering this was filmed in Witchita, Kansas. Some of the killings are quite interesting in their method and approach. The ending was particularly well done in my opinion, it leaves the idea open for a sequel that never came. Not everyone will enjoy this movie, but if you like well executed slasher films from the 80's then you'll most likely be very pleased. On a side note the DVD which was put out by Image is above average, the picture is very clear and the sound is in Dolby 2.0 Surround. Sadly there are no special features besides scene selections and two trailers for other Image DVD releases.

Screenshots:
Download: