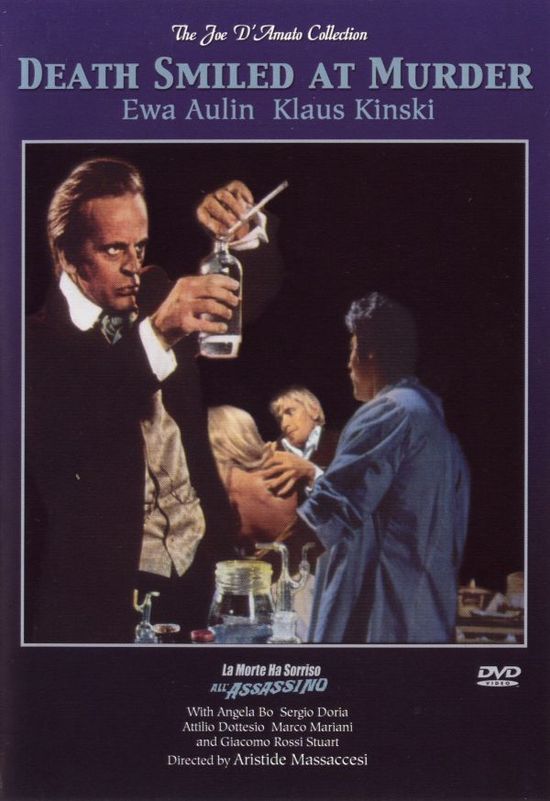 Year: 1973
Duration: 01:24:13
Directed by: Joe D'Amato
Actors: Ewa Aulin, Klaus Kinski, Angela Bo and Sergio Doria
Language: English
Country: Italy
Also known as: La morte ha sorriso all'assassino, Death Smiled at Murder, Die Mörderbestien, La mort a souri à l'assassin
Description: One of my favorite movies – encompasses a mood rather than a story. Klaus Kinski stars in this hazy beautiful Giallo with a haunting dreamy soundtrack. So what if the story doesn't really make sense? After Greta's death because of failure abortation with ancient magic she was brought back to life by his brother. Her existence now is subordinated to a single goal – revenge.
Review: "Death Smiles on a Murderer" – the first film directorial operator Joe D-Amato, and the only one on which he signed his real name – Aristide Massachezi. This Italian potboiler known mainly by the fact that he managed to mix horror about cannibals with full pornography. Already in the 80 years of the 20th century it became more and more deeply into jungle standard Italian porn (and not the best spill), but in the end – is caught up in it up to their ears until his death. He shot an endless series of films about the ridiculous "Black Emanuel," "Housewives prefer stallions", "Porno Holocaust" and "erotic pleasure" mixed with "Zombie 5" and "cannibalism." In his films never had no taste, no tact, no style, no meaning.
And so: "Death smiles killer." Joe D-Amato = director, writer and operator.
Plot. Plot it? Signer Dr. Amato certainly delirious when I wrote it. Not only is he unable to write and tell a story, he does not even imagine how to approach to the issue. He does not know how to relate the scene. Does not understand how and what to talk about with the audience. All the construction is not just a movie and amateur worthless – it is generally not "build." Let Joe D-Amato on set – is like to appoint a foreman on the construction of high-rise blind-deaf-mute.
Still, the plot: A blond-eyed and thick-lipped beauty sister (Miss Sweden – Ewa Aulin) and hunchback brother scientist lived hard and uneven. Brother, sister and wished passionately from behind, meanwhile inventing "in reserve" formula resurrection dead, and my sister jumped brazenly married age D-Artagnan with a mustache, became pregnant, tried to give birth and she died accidentally. Then the brother and sister animated hung around her neck a locket with an engraved miraculous chemical-formula and sister in gratitude for the resurrection hurled at him from nowhere seized burmalinovogo rabid gray cat (the "Black Cat" of the D-Amato money seen not enough – all squandered by Kinski), who lifted the poor hunchback to death (!). And my sister went on a journey into the wide world. But where her eyes were looking – we can not understand. For a hell of a coach it capsized, the coachman with fright all the guts "povylazeli", and she banged blond Her head and fell into insanity (according to other sources – in amnesia). Poor and homeless shelters putnitsu wealthy married couple with the family castle in the "easy" desolation. And they invited a doctor prihvornuvshey companion – and the doctor he was not someone, and Santa Klaus Kinski. And he saw the locket with the formula between breast amneziruyuschey apart, and he was killed by an unknown person. The same "unidentified object wandering" a little earlier was viciously shot maid of our hospitable couple, who had previously strongly strongly buggy and haunt her for no reason at all deceased brother amneziruyuschey guest. And then, the guests begin to copulate amneziruyuschaya alternately with the dark-haired mistress of the mansion, then with her hubby – young Dr. Artanyanom with a mustache. And seemingly idyllic close – Menage-a-trois, so to speak. But suddenly the lady of the house abruptly and severely jealous amneziruyuschuyu visitor to the husband (no, not the other way) and the unfortunate girl immured in the basement walls, as bequeathed comrades Edgar Allan Poe. But the gray-burmalinovy ​​cat does not sleep. As well, and the elixir vosresheniya from the dead. But wait, after all, a wealthy couple also have a servant – a very suspicious character, I tell you. Extremely.
Screenshots:
Download: