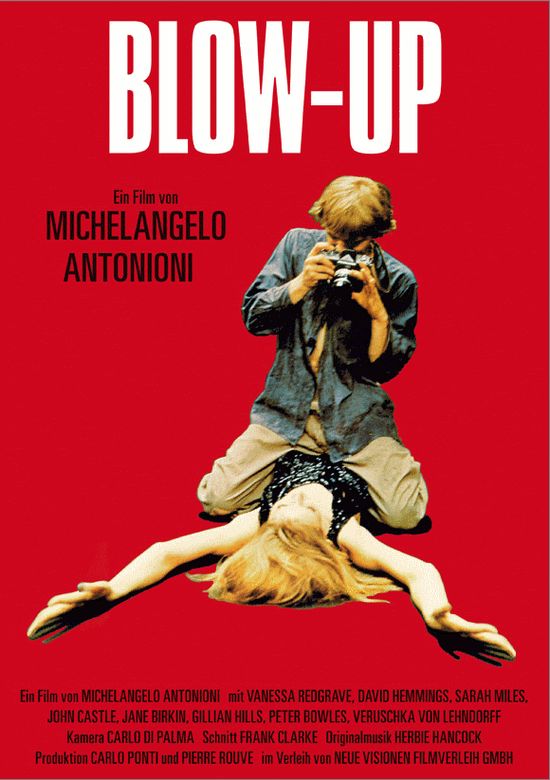 Year: 1966
Duration: 01:46:39
Directed by: Michelangelo Antonioni
Actors: Vanessa Redgrave, Sarah Miles, David Hemmings, John Castle and Jane Birkin
Language: English
Country: UK | USA
Also known as: Nagyítás, Yokubou, Deseo en una mañana de verano, História de Um Fotógrafo
Description: A successful mod photographer in London whose world is bounded by fashion, pop music, marijuana, and easy sex, feels his life is boring and despairing. Then he meets a mysterious beauty, and also notices something frightfully suspicious on one of his photographs of her taken in a park. The fact that he may have photographed a murder does not occur to him until he studies and then blows up his negatives, uncovering details, blowing up smaller and smaller elements, and finally putting the puzzle together. Filmed by director of Deep Red movie.
Antonioni's take on swinging 60s London focuses on the underlying decadence and alienation, as experienced by a fashion photographer at the heart of the scene. Appropriately, the film is awash with stunning images, quite a few of them involving the naked Verushka, a real-life model at the time. There's also naked frolics between two would-be models, but that's it as far the t&a content goes, this is a film that has weightier issues to address.
David Hemmings, excellent as the bored cameraman-about-town, accidentally photographs a dead body, or so he believes.  This discovery stirs him to resolve the mystery and give some meaning to his life, a task hampered by the indifference of his friends. But this is no mere murder mystery, a fact emphasised by a surrealistic tennis match being played out close to the scene of the  'crime', the meaning of which probably only Antonioni knows. The tone like most of his work, is bleak. Even when the Yardbirds (with Jimmy Page and Jeff Beck) are playing up a storm at a local club, the audience looks comatose. Herbie Hancock provides the soundtrack to a film that never looks less than beautiful and is well worth the patience it demands.
Screenshots:
Download: