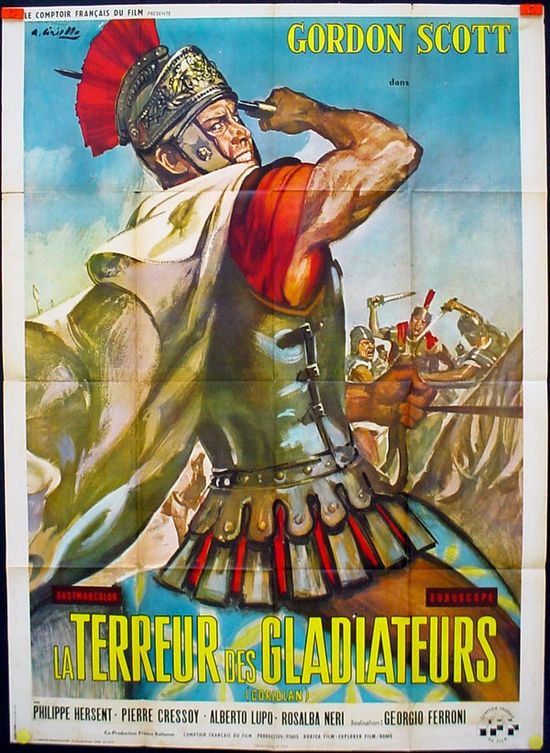 Year: 1964
Duration: 01:31:56
Directed by: Giorgio Ferroni
Actors: Gordon Scott, Alberto Lupo, Lilla Brignone
Language: English | Italian
Country: Italy | France
Also known as: Coriolano eroe senza patria (original title) | Coriolanus: Hero Without a Country, Thunder of Battle, Rebel tegen rome, Coriolano, o Herói Sem Pátria, Iros ton dyo kosmon, Héroe sin patria
Description: Rome, 493 BC
Coriolanus has achieve many great victories for the Empire against the Volscians.
He now seeks to get a seat at the Senate with the help of his companions.
But the population rises against the way they are despised by Coriolanus and he faces accusations of treason.
He will want to face his Roman enemies in battle, but this time he must be a politician rather than a general.
The film is harmonious and balanced. In it equally well worked out and battle scenes and "backstage romp" "authorities" and challenging the story of the hero, whose deeds made him a pariah in his own city. Despite the fact that revenge Rome gneya Marcius happened in 491 BC, and the play is written by Shakespeare in 1606 (1608), that happened 2.5 thousand years ago and written almost 500 years ago are incredibly relevant today — one only has to look to the West. Because Giorgio Ferroni shows the viewer the tragedy of not only the gneya Marzia, but also society as a whole. Surprisingly easy it is to set a negative crowd, consisting of individual, seemingly respectable citizens, and to turn it into a lethal machine of reprisals against undesirables.
Screenshots
Download