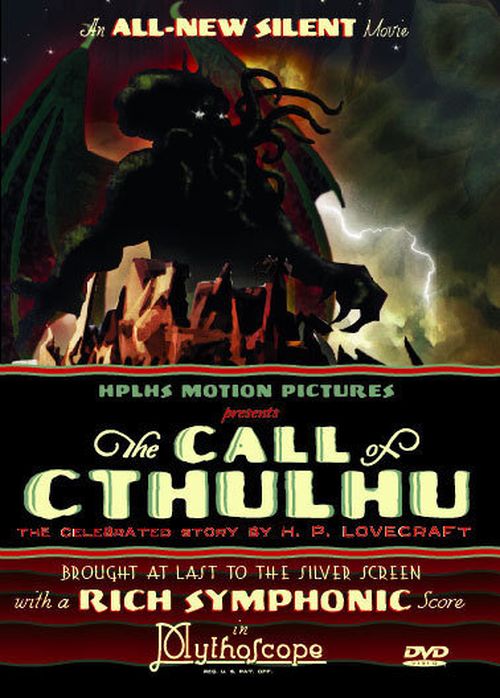 Year:2005
Duration:00:46:44
Directed by:Andrew Leman
Actors: Matt Foyer, John Bolen, Ralph Lucas
Language:English, French ,Spanish ,Italian, German

Country:USA
Also known as: La llamada de Cthulhu,Cthulhu hívása,Зов Ктулху
Description: "The call of Cthulhu" is an adaptation of the same story of the famous American writer h.p. Lovecraft, who worked in the genre of horror and mysticism. The story was published in 1928, but it never was properly shielded. But in 2005, the Society of fans of h.p. Lovecraft, it was decided to shoot the film adaptation of this famous story writer. It should be noted that money to create almost was not, and the creators decided to remove silent horror film in the style of the films of the 20's – that would have seen the screen adaptation of his story itself Lovecraft. The film cost only 50 thousand dollars – money producer Shawn Brandi and directed by Andrew Leman.
The storyline. The film is a story of the nameless Main Character who is faced with the cult of worship of the ancient deity Cthulhu (blend God Neptune and the Devil). Great-grandfather before his death left a strange Hero legacy survey about this mysterious deity Cthulhu, whose arrival in our world will end humanity. The main character begins to study the memoirs. The film is made up of stories of different people who witnessed the cult: the young artist Wilcox, who dreamed God Cthulhu and mysterious underwater city of R, LIH where this monster sharpened; inspector Legrasse, which faced the activities admirers of Cthulhu in the swamps near New Orleans; the sailor Johansen, because of the similarity of the events were in the same city R like and personally saw Cthulhu.
As already mentioned, "the Call of Cthulhu" – silent black-and-white film. The creators have done everything that the film does not differ from the movies of the 20's and earlier: the picture looks not only black and white, but a few "damaged" that appear on full screen subtitles, sound seems to come from "antediluvian" speakers, the music is also appropriate style… the style, I must say, really amazing movie doesn't look ugly and boring (boring he just does not have time because of its brevity – just 47 minutes). That's the only camera work, in my opinion, still gives the "modernity" of the film. You know, the special effects here are the same as in the science fiction films of the early twentieth century any combination of shooting or walking doll. Himself Cthulhu moves like king Kong 1932 issue. But still it looks nice. City R LIH looks very impressive.
Screenshots
Download