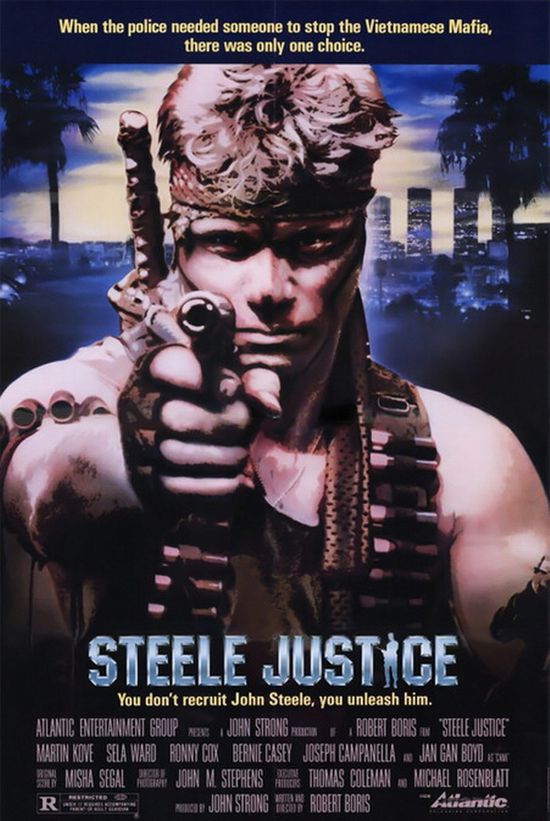 Year: 1987
Duration: 01:32:17
Directed by: Robert Boris

Actors: Sela Ward, Martin Kove, Ronny Cox
Language: English
Country: USA
Also known as: Stahl-Justiz, La vengeance de John Steele, Atsalinos Amerikanos, Acélos igazság,Stahl-Justiz ,Stahljustiz
Description: It's a dozen years since his return from Vietnam but John Steele is still trying to live with his past. Haunted by his memories, unable to hold down his job as a cop, Steele now counts his life in failures. That is, until his Vietnamese friend, Lee Van Minh – a cop in the Long Beach force – is savagely murdered in a gangland revenge killing.
Steele is jolted into action. Like a phoenix rising from the past he brutally tracks down the murderers – dispensing his own brand of justice on the way – to reveal a hidden, corrupt world of gangsters, drug-dealing and murder!
In the final confrontation John Steele fights for survival – his combat experience in Vietnam proving the only way to save himself and destroy the evil grip of a new and dangerous Vietnamese Mafia.
Review: In the late 80s and early 90s, action movies like these were churned out ten a penny. You had stars who went places like Van Damme and Seagal, then you had those who just came and went like Brian Bosworth and Martin Kove, star of this disposable, instantly forgettable piece of standard action fluff.
In what is essentially a First Blood rip-off, he plays the titular John Steele, ex-Vietnam vet. He saw combat, saw the horrors and made it home in one piece. Only to see a vicious Triad gang terrorize his neighbourhood and eventually kill his best friend. This, of course, sets him on a course of revenge and take the war he thought in the jungles to the war he'll be fighting in the streets.
If you didn't get enough action films in the late 80s and want to give this little known (understandably) 'little gem' a go, you'd better prepare yourself for some typically corny ballads, including Fight Fire With Fire and, played against the back-drop of a hilarious and furiously corny 80s music video, You're Not a Lover, as well as a plodding and standard screenplay and some rather dubious acting (the one who plays Soon Tech-Oh's son.) Speaking of Oh, he does pop up as the main bad guy here, but his usually reliable tense, quietly-unnerving presence strangely doesn't go any way in making this one any more enjoyable (he also adds to the hilarity towards the end by appearing in what appears to be a dark blue women's female maternity outfit!)
There are times when Kove does have a presence as an action hero and the story does show signs of raising up from the gutter a little. But generally this one doesn't appear to be very liked and it's not going to change with me.
Screenshots:
Download: