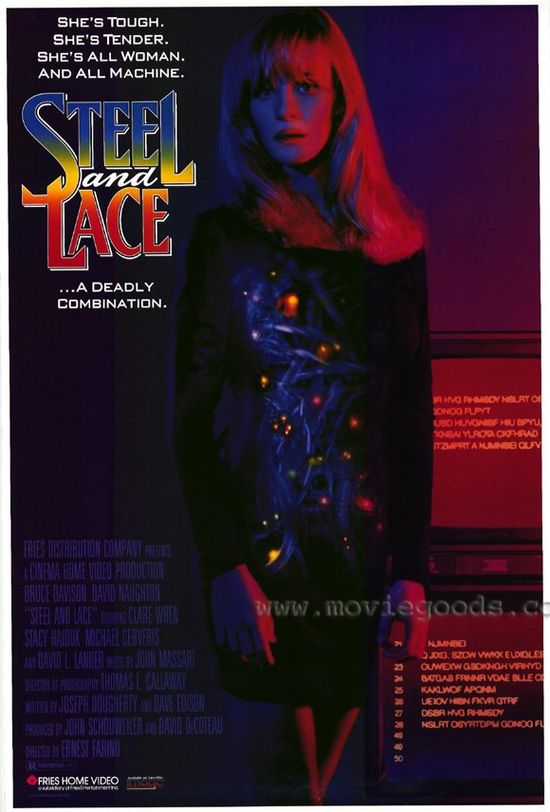 Year: 1991
Duration: 01:33:37
Directed by: Ernest D. Farino
Actors: Clare Wren, Bruce Davison, Stacy Haiduk, David Naughton, Michael Cerveris
Language: English
Country: USA
Also known as: Celik i cipka, Final Exterminator, Coeur d'acier, Máquina de Vingança
Description: Brother committed suicide victim rapists creates cyborg in the image of his sister to accomplish over the criminals, escaped from justice, a bloody revenge. Starring Bruce Davison, who also filmed in Last Summer and The Ladies Club
Review: The film "Steel and Lace" has long wanted to learn how to just read about it in one review already closed forum. Overview intrigued, but the opportunity to look at the Russian dropped recently.
This movie can be described for clarity so – if all of the well-known "Robocop" practically cleaned to remove boevichkovye moments, and in their place build in thriller terrible moments and then get the movie in the style of "Steel and Lace".
It turned out quite priglyadno, but not without issues.
Zauryaden story, but I love it. Fallen into despair because of the suicide of his sister, a scientist, has created in her image of a cyborg in order to revenge that five thieves thugs raped her, but released by the court, resulting in a character hands over and imposed.
Cutting down villains are in order. And I must admit, and the situations in which they are killed, and the way to finish some of the strengths of the film. The first encouraging unexpected and original solutions – mostly built on the change in appearance of cyborg, there is even a man with boobs.) And second of his blood – and then through the propeller, and the separation of the head, and sex to death, and his head in the blades of a helicopter – anything you need.
Screenshots:
Download: