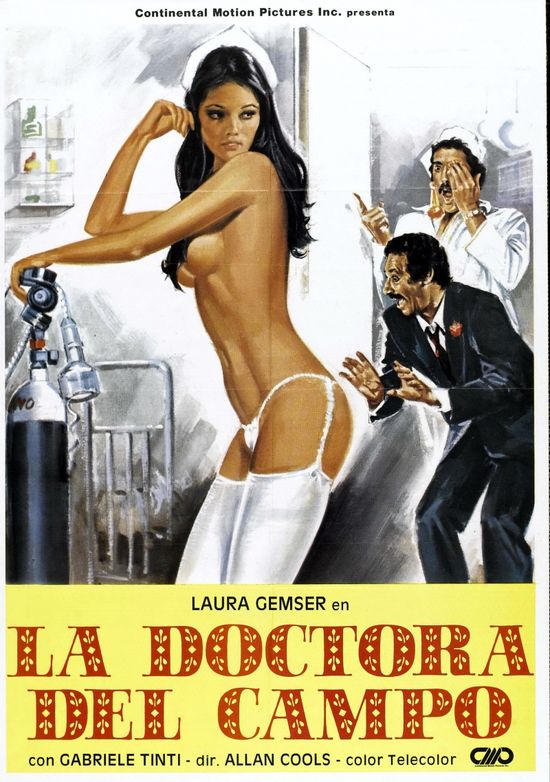 Year: 1978
Duration: 01:14:50
Directed by: Mario Bianchi
Actors: Laura Gemser, Gabriele Tinti and Cándida López
Language: English
Country: Italy
Also known as:  L'infermiera di campagna, Country Nurse,
Description: Beautiful woman doctor arrives in a small Italian village, where she quickly won the hearts of local men. Men are willing to do anything to get on to a new sexual doctor.
Sly distributors in their time somewhere released this film in a car called «Emmanuelle in the Country», alluding to the presence of Laura Gemser, has become known in the series of films «Black Emmanuelle», but «the Nurse in the village» anything to do with the franchise has not. In this case we are dealing with a dull, erotic Comedy Italian, a plot that revolves around the commotion that arose in a hypothetical Italian village after his arrival there new nurses with an exotic appearance. By itself, the entire male population immediately went insane and smitten to unquenchable passion and female gone mad from jealousy.
Further imagine the difficult: more or less ridiculous gags in the spirit of «the lover in the closet» or «lover» under the bed with a demonstration of the body Indonesian diva at different angles. Along the way, gets the fate of the two young lovers living in conflicting families – naturally, with the direct participation of the same doctor, which, despite the looseness of morals, striking local vilagers, remains faithful to her husband, although the presence of which causes unprecedented sexual activity in a separate corner of Italy.
And all would have been great if the jokes were just a little funny, and the characters a little not wandering and Laura Gemser – a drop of more beautiful (however, the taste and color…). In the same form in which there is a film appears on the hastily cobbled together hack, which give a no marketable could only using the known «trademark». Here and started to wander around the light of the new incarnation of «Black Emmanuel, watch that till the end can only particularly persistent fans Indonesian stars erotic cinema 70 agricultural and those likely to be somewhat upset too «Puritan» manner, in which she appears in the «L Infermiera di Campagna». Fans of Frank «strawberries» in this film remains to stand in a queue in front of the window, behind which there is a shower black nurses and wait their turn.
Screenshots:
Download: