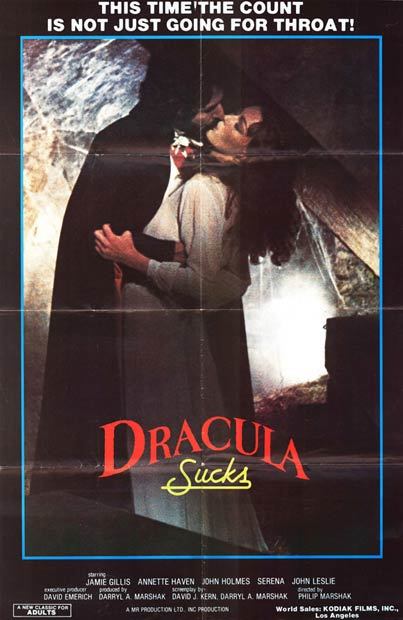 Year: 1978
Duration: 01:14:09
Directed by: Phillip Marshak (as Philip Marshak)
Actors: Jamie Gillis, Annette Haven, John Leslie
Language: English
Country: USA
Also known as: Lust at First Bite | The Coming of Dracula's Bride | This Vampire Sucks
Description: Patients have turned up bitten at a secluded sanatorium.
Professor Van Helsing visits the place to study the pathologies and rises the suspicion of vampires.
Count Dracula checks in as a patient himself and things turn for the worse as he starts chasing Mina.
At an exclusive sanitarium, strange things are happening: patients are acting differently and are being found with mysterious bite marks in their necks. Visiting professor, Van Helsing (Reggie Nalder) believes it to be the work of vampires. With the arrival of Count Dracula (Jamie Gillis), things get even stranger and more violent, as the diabolical count sets his sights on the beautiful Mina (Annette Haven). Acclaimed as the most star studded X rated film ever made, featuring supporting performances from Seka, Serena, Kay Parker, John Leslie, Paul Thomas, Mike Ranger and Bill Marigold, Dracula Sucks has finally been restored to its original directors cut. The shorter Lust At First Bite runs 74 minutes, and contains alternate footage different from the original version of the film. Several scenes are REORDERED AND EDITED DIFFERENTLY, Renfield is portrayed as a homosexual, THE SEX SCENES ARE LONGER AND MORE EXPLICIT, ALL BLOOD AND BITING SCENES ARE REMOVED FROM THE FILM and this version also contains an ALTERNATE ENDING.
Screenshots
Download