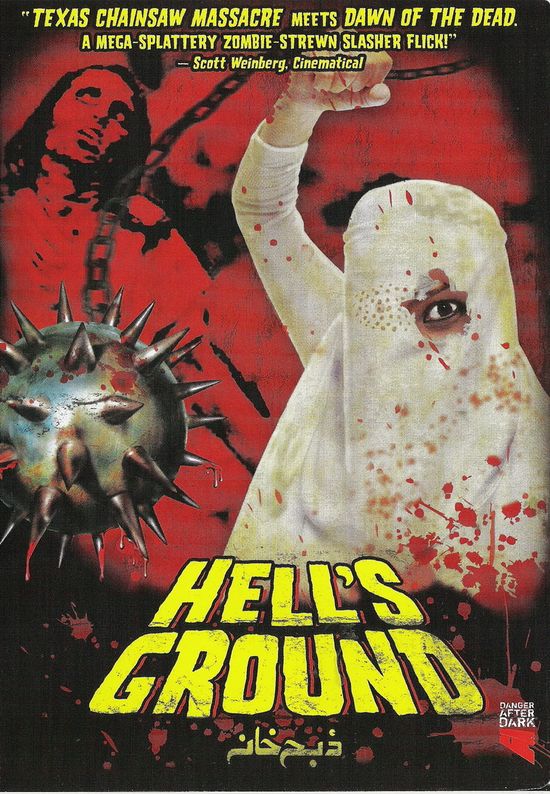 Year: 2007
Duration: 01:17:41
Directed by: Omar Khan
Actors: Kunwar Ali Roshan, Rooshanie Ejaz, Rubya Chaudhry
Language: Urdu | English
Country: Pakistan | UK
Also known as: Jatka, Zibahkhana, Tapamaja, Zombies Hell's Ground
Description: In this, Pakistan's first gore film, you have a number of elements that have been beaten to death in American horror films more times than Jason Voorees beat sleeping bag clad victims to death against a tree.
Let's see, 5 teens running off to go see a concert, and in their travels, stop at a food stand where the owner tells them they are headed to the area known as Hell's Ground and not to go there.  They decide, in time honored tradition, not to do what he says.  And off they go into an area where bio-zombies and a burka wearing killer awaits.
A number of elements that are very familiar to wipfilms users, but in the case of Hell's Ground, they all add up to a very entertaining film, mostly because
since this is Pakistan's first gore film, it is basicly seen through new eyes, and there is certainly nothing wrong with that.
"Five teenagers buy an old rotten van and secretly from parents sent to him at the concert of a famous rock band. Going astray and they fall on the territory controlled by a family of cannibals."
Screenshots:
Download: