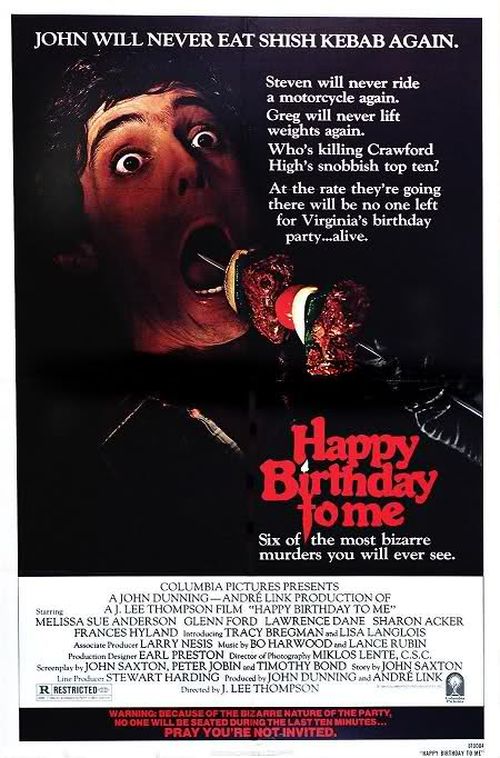 Year: 1981
Duration: 01:46:12
Directed by: J. Lee Thompson
Actors: Melissa Sue Anderson, Glenn Ford, Sharon Acker and Tracey E. Bregman

Language: English
Country: Canada
Also known as: Happy birthday, souhaitez ne jamais être invité, Blodig fødselsdag, Compleanno di sangue, Cumpleaños mortal
Description: Virginia is proud that she belongs to a clique. The best students at a private school. But before her 18th birthday, a grueling set of murders take place and her friends are the ones who are falling prey. Could it be her? She suffers from blackouts due to a freak accident one year earlier. We soon learn the truth behind her accident and what is going on…
Review: Most ads and posters for film carried a photo of a young man about to be orally impaled with a skewer of meat and vegetables, with the slogan "John Will Never Eat Shish Kebab Again." However, there is no character in the movie with this name. When certain cast members were stuck in their gore make-up for numerous hours, they decided to walk around the neighborhood scaring the wits out of people.
The press reported that in order to keep the "twist" ending a secret several endings were shot. This is untrue but helped hide the fact that while shooting, the film had no ending. The script was written with one ending that made sense to the story, but did not have a twist. So producers proceeded to film while tinkering with a twist. This explains why there is no build up to the ending.
Many fans were upset with the 2004 DVD release from Sony Pictures Home Entertainment because, not only did it have a completely different cover to that of the infamous original poster and VHS cover, it featured a disco score in place of the atmospheric piano piece that originally played over the opening credits in theaters and VHS releases. In 2009, Anchor Bay/Starz Home Entertainment re-released the DVD using the original poster as the cover and restoring the original music over the opening sequence.
Screenshots:
Download: