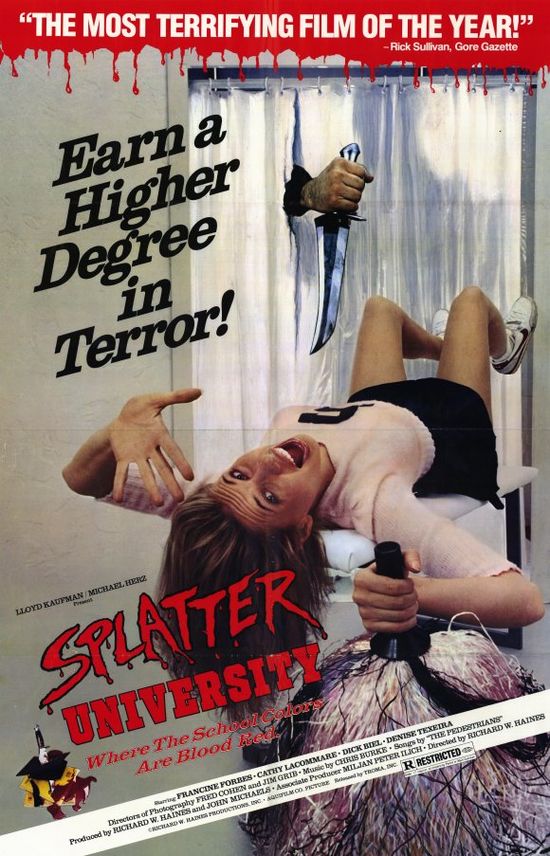 Year: 1984
Duration: 01:18:12
Directed by: Richard W. Haines
Actors: Forbes Riley, Ric Randig, Dick Biel, Kathy LaCommare and Laura Gold
Language: English
Country: USA
Also known as: Campus Killings, Highschool des Grauens, Terreur au collège
Description: Escaped from a psychiatric clinic criminal hiding in the building of the local college, in the walls of which will soon begin killing.
Review: No, I'm not about the movie. There are no unanswered questions, it's just a straight, of almost insulting viewer with boundless stupidity and unprofessional slasher, the creation of which seems to be as famous attended tromavody Kaufman and Herz, but given that there is not a trace of ink-tromovskogo absurd humor, it is not difficult guess that their part in making the film was the very best indirect.
Ah yes, the questions unanswered. So: Why is it all filmed? Which even the slightest attempt to grab a piece of glory waited all who applied for the shooting of the film's hand? Do all five shooting days (or how many – usually those films do not take off for a long time), the actor did not have to get up early in the morning broke, that come to the site and strain their lines through his teeth, relying on some of the Armenian-gypsy horoscope, which is foolishness predicted them fame and success? If anyone can find on this thread – whistle. And while debriefing.
There some rag (Gore gazette, to be exact) called shoyu kinoshku most shocking film of the year, what could make anyone glancing at the top of the local rather idiotic poster. You know, just a year to year with the "Splatter University" Came out, "A Nightmare on Elm Street", so either in the newspaper were idiots, or it came up for a self-PR, or a word was terrifying in the sense of "terrible "I mean bad, it would be more true of the film.
Again, local writers offer to play the game "Guess maniac", and if you look at the trailer you'll know the answer ahead of time (exactly – in the trailer, we show the face of the murderer, that absolutely any gate). Poor masters of special effects were poor in every sense of the word, but we need to give them credit – they did their best. No, I honestly do. Rudiments of decent places leaking makeup. Certainly not in the scene where a maniac kills girl in the car, cutting her forehead (oh, this is clearly seen fake leather), but honestly – if anyone is the least worthy of abusive epithets, this make-up.
Screenshots:
Download: