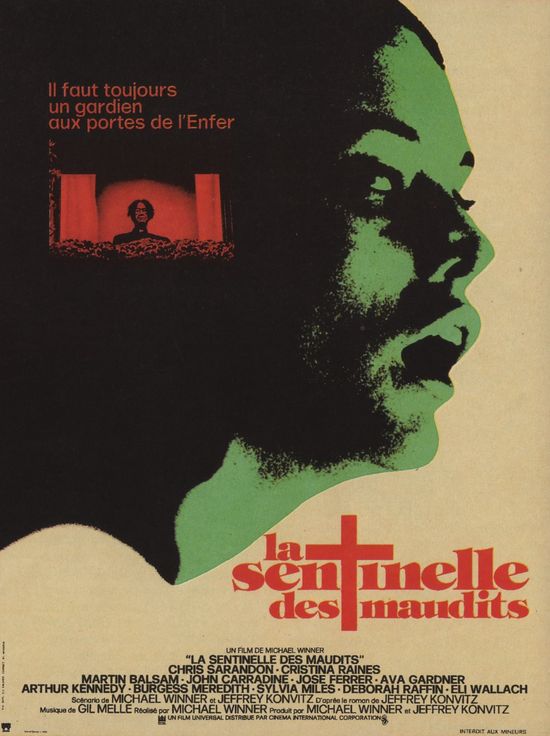 Year: 1977
Duration: 01:28:06
Directed by: Michael Winner
Actors: Cristina Raines, Ava Gardner, Chris Sarandon
Language: English
Country: USA
Also known as: Centinela de los malditos, A Sentinela, A Sentinela dos Malditos, Antihristos, o arhontas tou Skotous, Az őrszem, Bractwo strazników ciemnosci, Hexensabbat, La centinela, La sentinelle des maudits, Ondskans redskap, Ondskapens redskap, Stražar, Ta mystiriodi eglimata, Vartija
Description: DAMN GOOD, OVERLOOKED AND SOMEWHAT FORGOTTEN LATE '70'S OCCULT HORROR BOASTS A CAST TO DIE FOR (LEGENDS PLUS UP-N-COMERS AND SOON-TO-BE'S) WITH HIGHLIGHTS BEING BEVERLY D'ANGELO'S SWEET TA-TA'S, OLD MAN CARRADINE LOOKIN' EVEN MORE LIKE A ZOMBIE AND CHRISTOPHER WALKEN. MICHAEL WINNER OF DEATH WISH FAME, PUT TOGETHER A VERY GOOD HORROR WITH MAKE-UP FX BY DICK SMITH (THE EXORCIST) AND SPECIAL VISUAL EFFECTS FROM ALBERT WHITLOCK.
Plot: New York. Actress and model Alison lives with her boyfriend Michael, who wants to marry her. But Alison is not yet ready for such a step and decides to withdraw their own homes. Allison rents an apartment in Brooklyn, Miss Logan. She says that at the last, fifth floor lives a blind priest, Father Halliran. Getting used to a new place, Alison arguing with Michael, who took her controversial departure.
Soon Alison meets her neighbor, an elderly man, Charles Cheyzenom. During the picnic, Michael notes that Alison's neck hangs a cross. He is surprised, because I did not know that she was a believer. Alison soon acquainted with other inhabitants of the house. Alison soon begins to worry nightmares and weird hallucinations. She sees in her room swinging chandelier and hears a noise in the apartment upstairs. She said Ms. Logan of these strange phenomena, as well as the unusual neighbor, Miss Logan said that in addition to her father Hallirana and for three years in the house no one lives …
Review: Great movie in the spirit of the stories Lovecraft, great representative of the movie 70. A young girl, a famous model, rents an apartment in an old house in the heart of New York City, where strange things begin to happen. The plot is already known from the 19th century, when the popular Gothic novel gaining momentum, especially the story about the "bad house" or "place." Chotko balance of mysticism and scary scenes ala "Lucio Fulci" and even without nudity has not done. And of course the Catholic Church, with the secrets of the gates of hell on earth, is also involved. Among the interesting facts associated with this film – in the final scene of the attack of demons on the main character, use actors with real ugliness (eg actor Bob Melvin). Also in the film lit up such stars as Christopher Walken, the future Oscar winner (still young) as an assistant detective Jeff Goldblum (as a glamor photographer), Tom Berenger, and star of "Law and Order" Jerry Orbach. If a cute age 70 – playing without fail.
Screenshots:
Download: