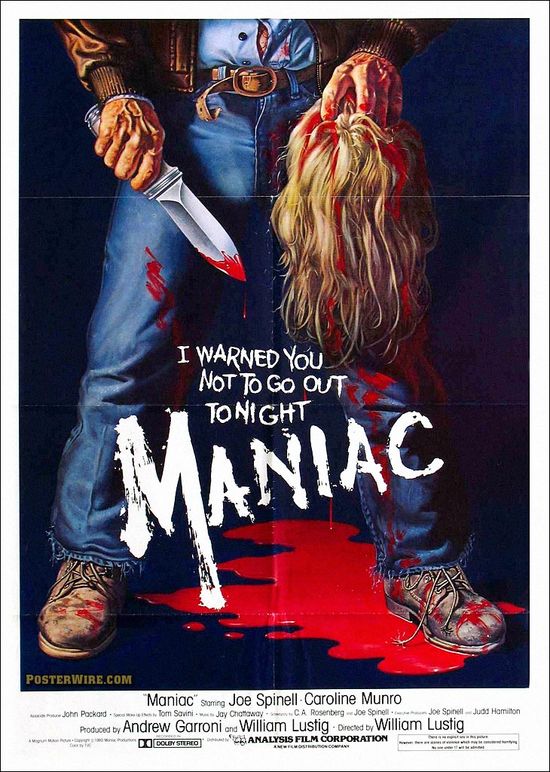 Year: 1980
Duration: 01:24:05
Directed by: William Lustig

Actors: Joe Spinell, Caroline Munro, Abigail Clayton and Kelly Piper
Language: English
Country: USA
Also known as: Maniaco, Maniak, Elmebeteg, Maniakos dolofonos

Description: Maniac is a 1980 American slasher film (though considered more of a splatter film), about a disturbed and traumatized serial killer who scalps his victims. It was directed by William Lustig (Vigilante), and co-written by Joe Spinell (who also developed the story and starred as the lead character) and C.A. Rosenberg.
The film's most infamous and widely talked about scene is the "Disco Boy Scene," in which special effects man Tom Savini, dressed in full 1970s disco regalia, has his head blasted off with a shotgun while making out with a woman in the front seat of a vintage car. The scene -filmed in slow motion and lit entirely by the reflected headlights of the car- is extremely graphic and realistic in its depiction of the damage caused by the man's head being blown apart at near point blank range by 12-gauge buckshot. Savini was a Vietnam War veteran and used his firsthand knowledge of the carnage he saw on the battlefield to create the effect.

Small review: MANIAC is the first horror movie I ever bought with my own money. I found it (unrated!) at BIG LOTS, of all places, for $5, when I was 15. Man, I must have watched that movie 3 times the first night I had it. I still don't think any other films capture such a horrifying atmosphere as this one. A few come close — CITY OF THE LIVING DEAD, BEYOND THE DARKNESS, DEAD AND BURIED, and a few others have such a dark, weird, and depressing atmosphere. But with this film: it all comes together.. the acting, the directing, the lighting, the gore, the music.  Just, everything about this film is topnotch, and it is my favorite slasher film ever, probably my favorite horror film ever (with Dead Alive coming close).
Screenshots:
Download: