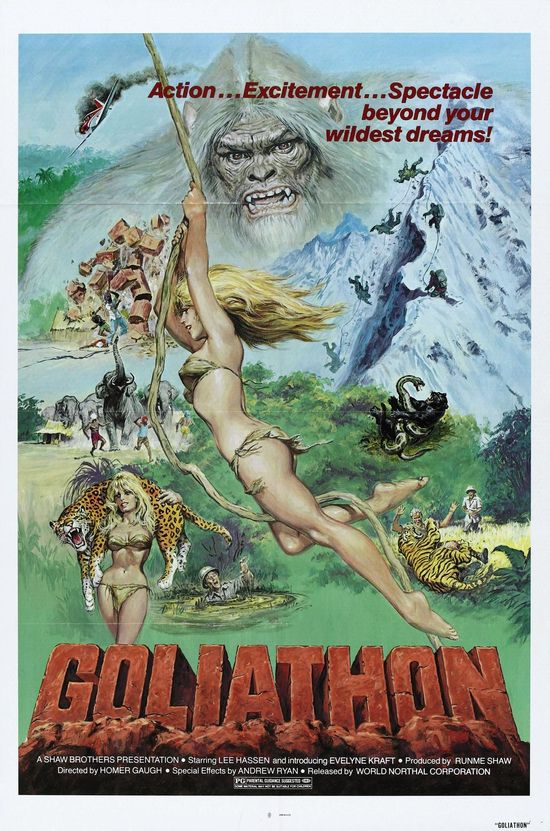 Year: 1977
Duration: 01:26:49
Directed by: Meng Hua Ho
Actors: Evelyne Kraft, Danny Lee, Feng Ku
Language: English / Mandarin (2 Tracks) (English Subtitles)

Country: Hong Kong

Also known as: Xing xing wang | Den afskyelige snemand | King Kong Hongkongissa | The Mighty Peking Man | Le colosse de Hong Kong | Gorilanthropos, o atsalenios gigas | Gorilanthropos, o tromos tis Gis | Sing sing wong | Il gigante dell'Himalaya | L'uomo di Pechino |     Pekin-genjin no gyakushu | Het Monster van Peking | O Colosso de Pequim | Colossus of Congo | Der Koloß von Konga
Description:Earthquake awakened giant monkey Goliathon and crushes some village, and then would run away somewhere. In the jungles of India saddled expedition, which in addition to the giant gorilla finds there and wild white skin blonde-bred, this very gorilla. Both taken in Hong Kong, where the evil businessman tries to exploit the gorilla. However, that is not quite like. Yes blonde feels out of place in the metropolis…
Review: Hong Kong production studio, Shaw Brothers rip off the classic King Kong story but decide that awful special effects and cheesiness are more important factors in making a great film than a good plot. This rendition of the well known tale focuses on a miserable explorer. His girlfriend cheats on him with his friend so he fucks off to the Himalayas to find a giant gorilla. They haven't been there five minutes before a horde of elephants stampede and they have to slaughter them all. It's only another five minutes before someone's drowning in quicksand while the outfit is also being attacked by a tiger. The thrills come flying at 90 miles an hour in this neighbourhood.
Then the filmmakers seem to get confused with what the story was so they throw in the "Jane" character from Tarzan who gets seduced by our hero. She loves to talk to animals and lets tigers ride around on her neck. And it only gets better! Of course, contains obligatory giant monster trashes large city scenes. It sometimes feels like Shaw Bros. were ripping off TOHO just as much as they were King Kong.
This here rip has two audio tracks, the original Mandarin track for which I have also included English subtitles and also an English dub track. Hope everyone enjoys this cheesefest!
Screenshots:
Download: