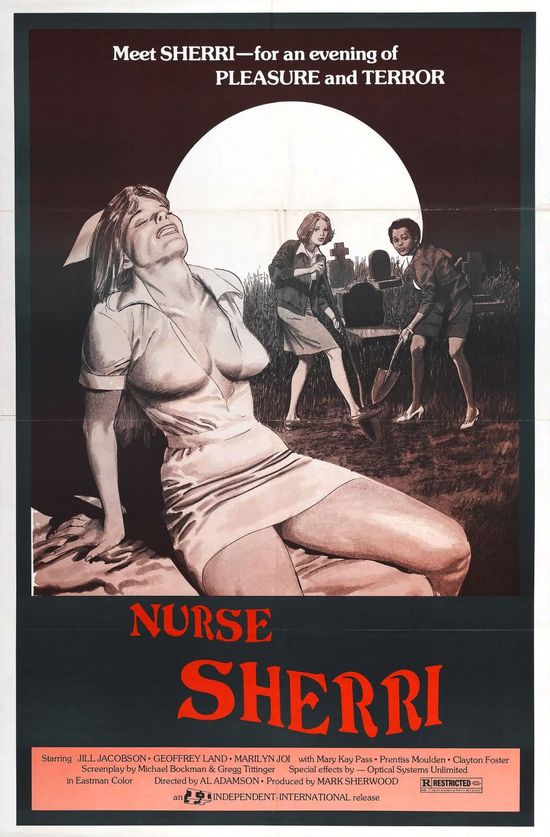 Year: 1978
Duration: 01:28:14
Directed by: Al Adamson
Actors: Geoffrey Land, Jill Jacobson, Marilyn Joi, Katherine Pass and Prentiss Moulden
Language: English
Country: USA
Also known as: Nurse Sherri, Beyond the Living, Black Voodoo, Hands of Death, Hospital of Terror, Killer's Curse, Terror Hospital
Description: Mysterious black sect engages in the ranks of the bloody followers of Satan inexperienced young souls. That's the heroine of the film, kind and naive nurse caught in the clutches of the terrorists. Hospital shake the cruel and terrible murder…
Review: Subject demons become implanted in the human body , succubi and other such evil srodu in demand – both bikes and books , and , of course, in the film . Films about exorcism and so forth . photographed a great many, and among this set of today's guest – "Sister Sherri ," also known as " Bloody nanny " – not the tenant . All fairly dull nedoerotika forgotten , somehow masquerading as a horror movie.
In the hospital with a heart attack goes head some kind of cult. Contact with him had dire consequences for the nurse by the name of Sherry , for one night to her apartment penetrates the spirit infused into the girl and forcing her to commit murder as well as from time to time to broadcast a rough male voice . Meanwhile, in the same hospital is a blind black man on whose wrist – a mysterious bracelet, frightening off the demon.
Something looks like an evergreen " The Exorcist " , agree. As well as a dozen of its imitators and clones. But to honor " Bloody nurse ," she Tape Friedkin is not similar . For in the " Exorcist " had a budget and did not have a bunch of stupid clowns who are abundantly present in the sample and are called actors.
First, I do not know how this has been achieved , but filmed in 1978 , the film looks like it was shot on 15 years or so earlier. Absolutely no speakers, fully sixties soundtrack and other components are suspect that before the release of the film respectable time lain on the shelf. Maybe so , and if they lay – then take it from there not worth it.
Where were selected actors I do not know, and did not know very much , to be honest , I wish . Virtually no one Jeda play normal – or with meatless faces staring somewhere past the camera , trying (unsuccessfully) to create the effect of the presence of his character , or ( most often) wildly overplayed . Somehow stand above them played a major role Jill Jacobson , but it is the case of those " In the land of the blind the one-eyed , and – the king ."
Special effects strongly criticize will not – it is difficult to criticize what is not . There is a metered portion of the blood is notorious spirit , is a wildly painted green VSPOLOKH , vaguely reminiscent of "Blue Puppy " – or rather the moment with a song sawfish , I do not know why, but so here .
The authors are trying to get nudity , which is enough, even more than . Two extensive sex scenes , which are nevertheless very tight and make a dull effect of which is not clear in vyalovatuyu , but eroticism , and the progress is – it would be better not immediately tormented and took an honest porn than trying to say there is something about demons and that out there . Especially, for example, " Deep Throat ," we know that porn in those days earned a solid money .
The destiny of " Bloody nanny " unenviable , but fully deserved for sit through a half hour incredibly slow action interspersed with dialogue , not representing anything interesting not everyone agrees . R.I.P., Nurse Sherri.
Screenshots:
Download: