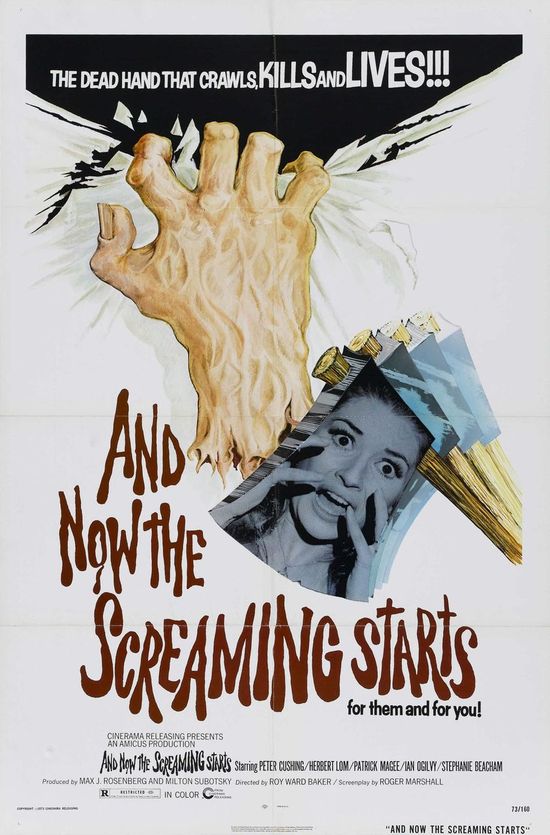 Year: 1973
Duration: 01:30:10
Directed by: Roy Ward Baker
Actors: Peter Cushing, Herbert Lom, Patrick Magee, Stephanie Beacham and Ian Ogilvy
Language: English
Country: UK
Also known as: I Have No Mouth But I Must Scream, Ahora empiezan los gritos, Bride of Fengriffen, Den avhuggna handen, Embryo des Bösen,
Description: Film- visual confirmation that the British – unsurpassed master of the gloom , Gothic and mysticism. They ( really! ) that no castle or mansion , then a crowd of creepy ghosts and chilling legends that no noble family , then with a bunch of family portraits on the walls of family skeletons in closets, crypts and dungeons. And it actively and described is described in the literature there the show and in the movies . And it's all quite fascinating , if, of course , performed brilliantly , or at least soundly. Call this mystical picture talented would compliment and soundly – disparagement of its merits . And because it is located somewhere between these definitions.
With the " frightening " the audience is all right (especially remembered " horrendous " facial expressions of the main character ) . Impressive and severed crawling hand and choking ( like we saw in the " Diamond Hand " in a nightmare Kozodoeva 4 years "before" and a whole series of works "after" – even in the animated series " Drakulito – Vampirenysh " ( Handy ) ) . Acting – " not sparkling , but adequate ." Overall, not steep , but quite watchable movie , even now . Late in the evening comes , as a home .
And the thoughts of some casts , seditious enough for the British aristocracy. Indeed, judging by the literature and cinema, many of her ancestors were rarest scum , which for their sins were imposed curse ( at least for the Baskervilles , at least for Fengriffenov ) . And they did not place in the generic " iconostasis ", and in the museum of Scotland Yard , despite valiant brandishing swords in any battle of any village for any king. One would like to ask: Do you gentlemen , gentlemen ? and lords you , lords ?
Screenshots:
Download: