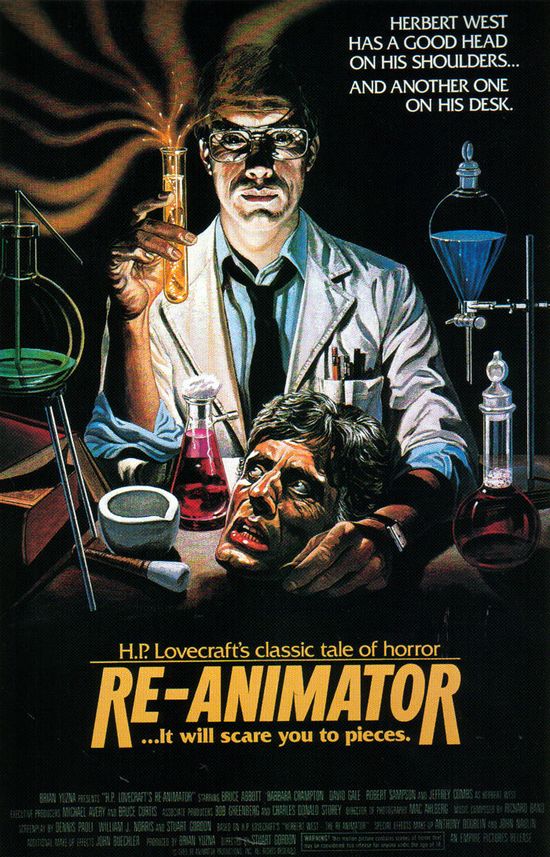 Year: 1985
Duration: 01:47:47
Directed by: Stuart Gordon
Actors: Jeffrey Combs, Bruce Abbott and Barbara Crampton
Language: English
Country: USA
Also known as: Ζωντανός-Νεκρός, Der Re-Animator, O Soro Maléfico, Reanimátor, Zontanos-nekros
Description: Dead bodies were reanimated with a mysterious serum, obtained as a result of unimaginable experiments, by medical student Herbert at West University. Herbert's neighbor  Dan helps his friend in this horrable deal. They begin with a cat, then get to the bodies of the university's morgue …

There is also a remake of this movie, which is called Beyond Re-Animator It was published in the 2003 and can be found on my blog

Review: "Re-Animator" – a classic horror film comes from the 80s, it can be said, a unique film product, which can be created only at a time. The film was loosely based on his short story by HP Lovecraft, "Herbert West, Recovery," but in the creation of the authors gradually moved away from the intentions translate on the screen dark and creepy horror, the most authentic story. As a result, the output was a very "black" comedy with a lot of bloody scenes and other abominations. Band participated in the festival program fiction films and horror films in Avoriaz, France, where she received the award for Best Special Effects – and not in vain, John Carl Buechler, one of the giants of make-apa and quality "of the mountains"-effects, worked here for fame.
Tandem Stuart Gordon and Brian Yuzny added this bloody spectacle excellent directing and screenplay together with Dennis Paoli. Of course, among the actors playing the first violin Jeffrey Combs, who is brilliantly embodied on-screen image of Re-Animator – a minimum of emotion, full of concentration and fanaticism, hard eyes behind his glasses are magnetically to the viewer. However, black humor black humor hatred, towards the end of the film turns into a life-grinder completely losing all traces of humor.
I believe that the "Re-Animator" – one of the best horror movies, but not as a film adaptation of Lovecraft's not competent.
Review #2: Create an elixir of immortality tried many scientists throughout the ages. Salvation from death and the gift of eternal life – what could be better than that? Such is the teaching, largely devoid of principles, was Herbert West, who rented a room at Miskatonic University student Daniel Kane and passing it involved a most heinous experiments in the name of his magic elixir.
Stuart Gordon's (Pit and the Pendulum) horror film "Re-Animator", released in 1985, is one of the best adaptations of the works of Howard Phillips Lovecraft. Although the picture and can be attributed to the very real trash (a tiny budget and a short time of filming), this film simply must see every true fan of horror.
The picture is very atmospheric and full of black humor and grotesque, kotorytsy achieved through the specific performance of the actors, and especially Jeffrey Combs, brilliantly played by Herbert West, Bruce Abbott, who played Daniel and David Gale, who created a picture of a very colorful image of an old scientist.
Special effects in the film pleasing to the eye its realism, why not film seems out of date, even to this day.
Operators work in the film is beautiful and full of gloom his extremely interesting camera angles, and the soundtrack by Richard Band creates the necessary mood in the film.
I recommend this to all fans of classic horror films and horror trash and I'm just sure that the film will be one of the favorites.
Screenshots:
Download: