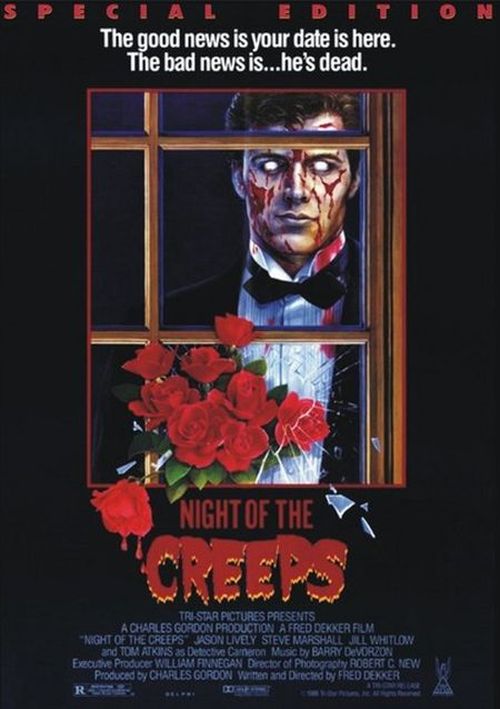 Year: 1986
Duration: 01:29:52
Directed by: Fred Dekker
Actors: Jason Lively, Tom Atkins, Steve Marshall
Language: English (English Subs)

Country: USA
Also known as: El terror llama a su puerta, Noite dos Arrepios, Die Nacht der Creeps, Dimensione terrore, Extra sangsues, Homecoming Night, Lötköjen yö, La nuit des sangsues, Noc pelzaczy, Rémes egy éjszaka
Description: In the vicinity of the campus appeared sneaky worm creature. They penetrate into the human body through the mouth and turn people into zombies. The fight against the creatures head humble student with flamethrower at the ready and grizzled detective.
Review: The film Night of the Creeps is great! Fred Dekker tried to glory, and the script was written, and he orchestrated. The story, by the way, is even nothing.
In general, the film is cool and what I really like about it, it's – the atmosphere, no, she's not scary and depressing, I would say, most likely, the mystical, and good music. The first time I saw the film at age 9, and he then, as I recall scared me, not much, but still shiver ran, and now, just funny, sometimes love to review it.
The result was a sort of youth-horror comedy, in my opinion, one of the most interesting and the best late 80's. Of course, the zombies in this film are not exactly zombies, their task is not to eat people and resettle them slugs, which lay their eggs in the brain. Again, I repeat, the idea (the plot) is wonderful, combine alien slugs and zombies, all this is so well-done that and nothing to complain about. Actors also played very well, each of them deserves praise, especially liked the role of Tom Atkins. In short, the film is definitely worth 10 points. By the way, it looks like something on the recently released "slug", but only, of course, a hundred times worse than the "Night of nightmares."
"Night of the Creeps" Oh, express all your feelings left after the movie, it is impossible, at least for me. If will give you a chance to see it, do not hesitate, get (buy) and look, I'm sure that those who like horror films, this masterpiece will like.
Screenshots:
Download: