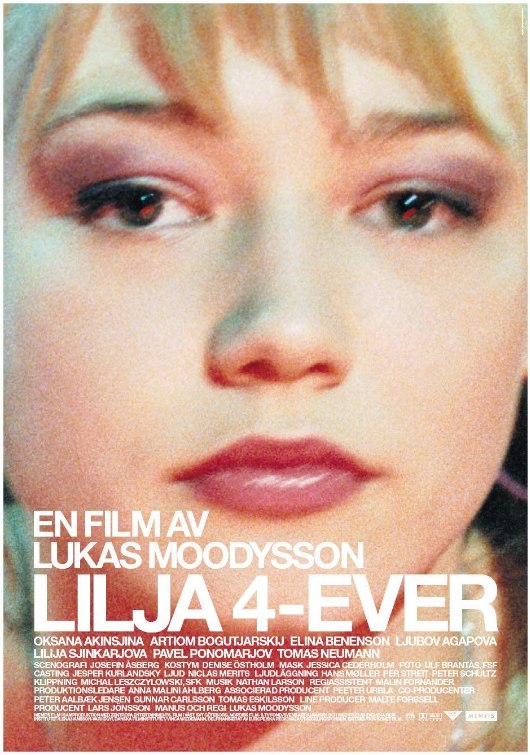 Year: 2002
Duration: 01:44:00
Directed by: Lukas Moodysson
Actors:  Oksana Akinshina, Artyom Bogucharskiy and Pavel Ponomaryov
Language: Russian | Swedish (only a few words) | English (only a few words)
Country: Sweden | Denmark
Also known as: Лиля навсегда
Description: 16 years old Lilya lives in a small town somewhere in the former Soviet Union. Her mother rode to America with a new lover, and Lilya is waiting when she will send the invitation for her. Without receiving any letters from her mother, withput no money, Lilyarealizes that she was dropped.

She has only one friend – an eleven years old boy, called Volodya, with whom they dream about a better life. And once Lilyareceived the hope. She falls in love with an adult, named Andrew and he convinces Lilyato go with him to Sweden …
Review: I won't say that the film is "excellent" or "delightful", but I took it to a few that are considered as masterpieces.
Actors. The main character, 16 years old Lilya (Oksana Akinshina) played really well. She gave a sufficient number of emotions and feelingsto her character. A little disappointment for me was Volodya (Artyom Bogucharsky) and even many other actors. Instead, they showed a good atmosphere of the film.
Dialogs. All of the text and dialogs of the film causes a feeling of ambivalence. On the one hand there is some kind of unnatural, but on the other hand, many owned phrases are in the style of modern teenagers, which are illustrated in the film.
The overall impression is even realistic. I was pleased with director's work. I often had the feeling that I'm participating in the movie, not just watching it. Lilya 4-Ever is a real drama, from begining till the end. And I really suggest everyone to watch this movie.
Screenshots:
Download: