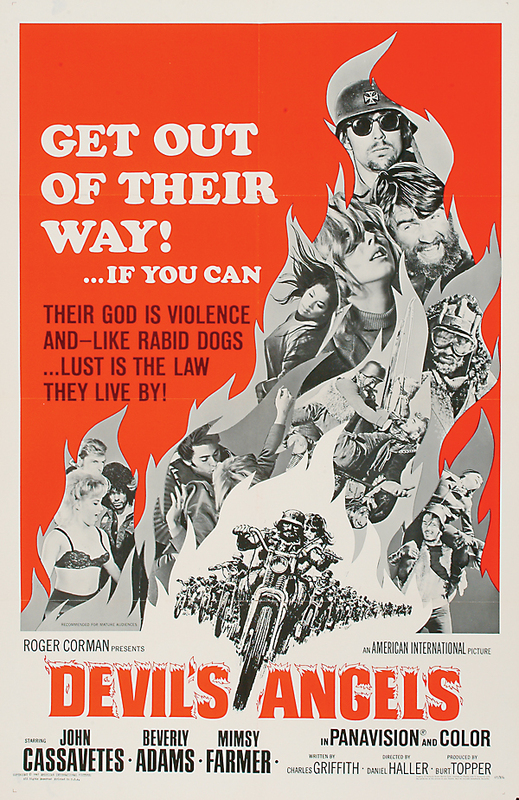 Year: 1967
Duration: 01:23:25
Directed by: Daniel Haller
Actors: John Cassavetes, Beverly Adams, Mimsy Farmer
Language: English
Country: USA
Also known as: Les anges de l'enfer (France)
Description: The Skulls is a fierce motorcycle gang. But when two of its members have a fatal accident, their leader decides that they must move to a haven for renegade cyclists.
They break a fellow biker from jail and escape the police cross country.
They stop at a small town where the population fears them but a young girl can't avoid their appeal.
She heads to a party with them only to run away fearing a rape after she drank too much.
Cody is wrongly arrested only to have his gang ravage the town as a revenge.
The dream of Cody to find a haven is lost and he leaves the gang behind.
A B-MOVIE BIKER EXPLOITATION FILM STARRING HEAVYWEIGHT ACTOR, JOHN CASSAVETES IS A MOVIE THAT DEMANDS TO BE WATCHED. IT'S A WELL-KNOWN FACT THAT CASSAVETES AGREED TO MOST OF HIS ROLES TO COLLECT THE PAYCHECKS THAT WOULD HELP FUND HIS DIRECTORIAL PROJECTS OF THE TIME. STILL TO BE IN A LURID PIECE OF TRASH (I MEAN THAT IN A GOOD WAY) LIKE THIS, ALBEIT A WELL-WRITTEN AND THOUGHTFUL ONE, IS SOMETHING TO BEHOLD. HIS PRESENCE ALONE LIFTS THIS BEYOND THE DOZENS OF SIMILAR-THEMED MOVIES BEING RELEASED IN THE MID-LATE 60'S AND EARLY 70'S.
THIS IS CORMAN'S FOLLOW-UP TO '66's THE WILD ANGELS AND IN MANY WAYS A SUPERIOR FILM. POSSIBLY ONE OF THE BEST BIKER FILMS OF THE 60's. THE DOLBY DIGITAL ENGLISH SPLIT MONO AUDIO TRACK IS FAT AND LOUD SHOWCASING THE GREAT BONGO WORK FROM MIKE CURB, THE NON-STOP FUZZ GUITAR ROCK FROM DAVIE ALLAN AND THE ARROWS AND THE THEME SONG, "DEVIL'S ANGELS" PERFORMED BY JERRY AND THE PORTRAITS.
Screenshots:
Download: