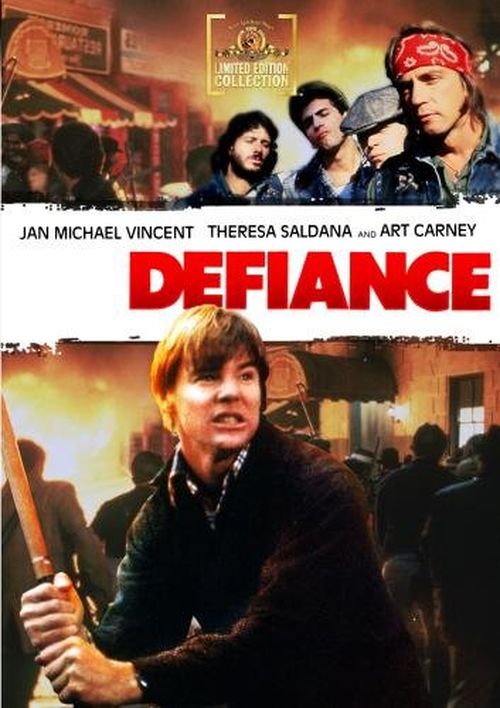 Year: 1980
Duration: 01:42:48
Directed by: John Flynn
Actors: Jan-Michael Vincent, Theresa Saldana, Danny Aiello
Language: English
Country: USA
Also known as: De Portorico gang, Terror in Brooklyn
Description:Barrow St. is a tough street in a rough neighborhood, ruled by a group of hoods who call themselves "The Souls." But Barrow St. is also the new home of Tommy Gamble, a young, pugnacious merchant seaman who has been suspended from service for fighting. Tommy wants no part of the insane "action" on Barrow St.; he's just waiting to get his union card back so he can leave. Besides, how can one man stand up to a fearsome gang? It becomes easy for the loner Tommy, because for the first time in his life, he finds something worth fighting for!
Review: Trivial movie Defiance by John Flynn features a very interesting language narration. Everything seems already clear – there is good, there's bad, those at risk, those hide, nothing to do with the police, but it is very simple and foldable tells that genuine interest appears that the same will be in a minute or two. And the introduction is very simple – a proud sailor, with an unknown past, dangerous area, a gang of criminals and cowardly people. Such films in the 80s were hundreds. The only feature paintings Flynn – starring. The status of a tough guy tried not Stacy Keach and not Charlie Buchinski. This is the hero of the "Great environment", Jan – Michael Vincent. And I tell You, he is quite justified advances.
There is truth in the movie Defiance one chance, which is surprising. After Vincent rightly and deservedly, cruel and relaxed beats by several members of the gang in his apartment for the guests to come. When he takes a shower it comes to the head, of course, nicknamed angel. We understand that punishment is inevitable, but… angel folds. What this man saw in the soul that decided to abandon the obvious idea? Vincent even a finger was not touched. Moreover, our hero then got a boost of confidence that even angel, armed with a gun was to rush. What shocked in Vincent angel? This time the writers have obviously done better than leaving the occasion for a very lengthy hints and jokes, and the rest – Vincent opposing the gang of thugs and collecting people's militia, looks very cool. Probably in the early ' 80s, the problem of street gangs was both in Europe and in the United States is enormous.
Screenshots:
Download: