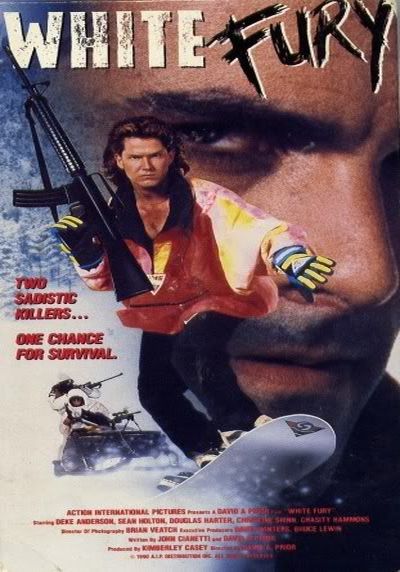 Year: 1990
Duration: 01:22:08
Directed by: David A. Prior
Actors: Deke Anderson, Sean Holton, Douglas Harter
Language: English
Country: USA
Also known as: Lefki katadioxi
Description:
Here's a swingin' winter wonderland holiday-esque classic for all you junkies. Family got you down? I'm sure you won't wanna miss a day of glorious b-movies and hardcore insanage. Here's a special AIP flick for the eve of Christmas.
Basically this is a shitty David Hess film with snowboarding in it.
B A M
You know everything about it.
Crazy dude comes and takes kids hostage, although I guess he just wants to get paid, and I guess there's also a subplot with a bounty hunter, and some amazinging shitty snowboarding effects, wow, and crowd scenes of like 15 people, man, i LOVE AIP FLICKS!
Yeah, there's some bazooka-age, and not rape, but for some reason willing sex with a dude who's holding you hostage and threatening your life, who knows with kids these days?
Here's a hilariously excitiny yahoo movie description:
"A romantic weekend at a remote mountain cabin becomes a deadly nightmare when sadistic criminals take frightened teenagers hostage. With sheer wit and raw courage, the prisoners must survive the raging blizzard outside and race their captors to freedom."
"Two young couples decide to spend a romantic weekend in a beautiful cabin in the mountains. There are two hardened bandit, wanted for Bank robbery and murder twenty people. Once in the hands of inveterate murderers, young people try to find the way to salvation."
SHEER WIT AND RAW COURAGE, MOTHERFUCKERS!
Here's some screenies, I'm afraid I don't have time to GSPOT it up, I will later mayhaps. Rest assured the specs are the same as my other uploads.
Although like those uploads, this is off of an old vhs tape so it's not perfect, obs.
HAPPY HOLIDAYS! WHITE FURY!
Screenshots
Download