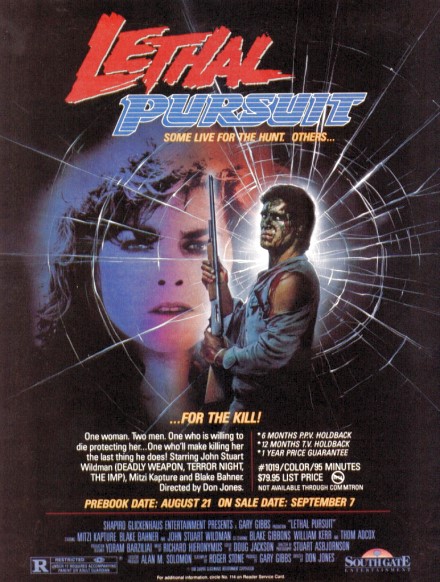 Year: 1988
Duration: 01:33:27
Directed by: Don Jones
Actors: Mitzi Kapture, Blake Bahner, Thom Adcox-Hernandez
Language: English
Country: USA
Also known as: Perseguição de Morte,
Description:
Right on the spline of the VHS box this tape came in, clearly says "action adventure". But….of all
the folks I've ever known who's seen this movie, every one of em watched it for one reason and
one reason only…….Mitzi Kapture. They didn't watch it because of her extraordinary Shakespearean
quality talent as an actress, or for her uncanny ability to lip sync as a rock and roll star, and trick us all
into believing that it was really her singing. It's because every one of em, had watched her on "Silk
Stalkings", fell in love with those gorgeous legs that went straight on up to one bodacious booty, and
dreamed of the day that they could see her naked. Not knowing of course that she'd appeared in a
couple of flicks earlier in her career, had done just that, then got a job on tv and could keep her clothes
on. Anyways….this is one of those previously mentioned movies that sexy Mitzi shows some skin, and
comes in as a fresher than fresh, just came in the mail, transfer of it from VHS with hard coded subtitles. The 1988 Mitzi Kapature skin exposing
"action adventure…….Lethal Pursuit.
Screenshots
Download