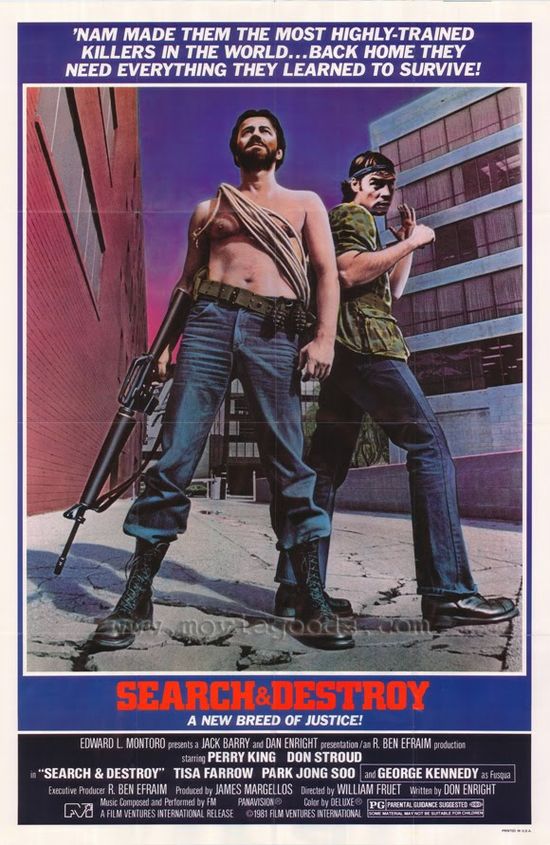 Year: 1979
Duration: 1:33:29
Directed by: William Fruet
Actors:  Perry King, Don Stroud, Tisa Farrow, George Kennedy, Tony Sheer, Phil Aikin, Rummy Bishop, John Kerr, Géza Kovács, Bill Starr, Kirk McOll, Jong Soo Park
Language: English
Country: Canada, USA
Also known as: Striking Back, Persecusión implacable, Despiadada cacería humana, Buscar y destruir, L'exterminateur, Katadioko kai skotono, Matomenos Niagaras, Il mio scopo è la vendetta, A Desforra do Vietnam, Vedergällningen, Bul ve yoket, Der Mann der aus dem Dschungel kam
Description: Members of the same Vietnam veteran army unit begin turning up dead. When police begin investigating, their conclusion comes to one of the unit's own members, a man named Kip Moore, although he is not the killer. Trying to clear his name, Kip begins looking for the killer when the killer begins targeting him.
1.47GB XVID  OF WILLIAM FRUET'S 1979 FILM, SEARCH AND DESTROY STARRING PERRY KING, DON STROUD, TISA FARROW, GEORGE KENNEDY, TONY SHEER, PHIL AIKIN, RUMMY BISHOP AND JONG SOO PARK.
MODEST REVENGE ACTIONER HAS A GREAT CAST OF GENRE STARS AND A HALFWAY DECENT PLOT. IT WORKS MOST OF THE TIME BUT NEEDED A STRONGER VILLAIN. 70s FILM BUFFS WILL NO DOUBT WANT TO SEE THIS.
Screenshots:
Download: