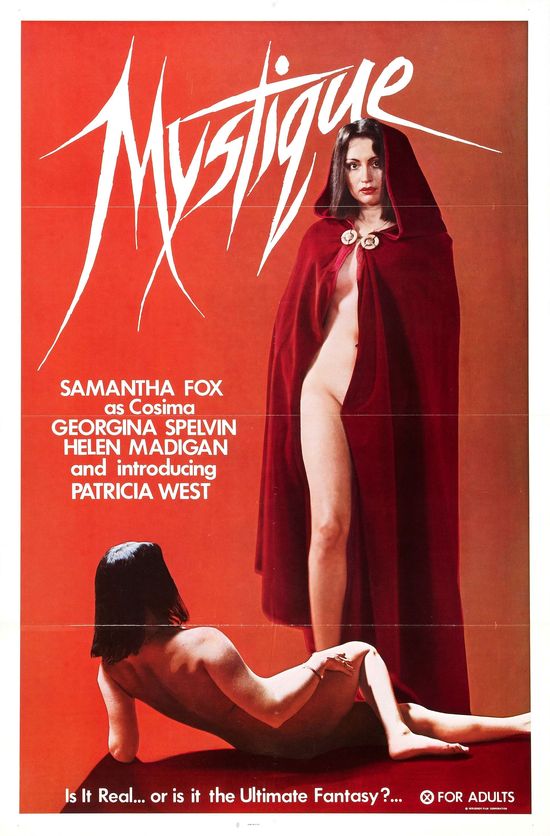 Year:1979
Duration:01:14:30
Directed by: Roberta Findlay (as Robert W. Norman)
Actors: Georgina Spelvin, Samantha Fox, Jake Teague 
Language:English
Country:USA
Also known as: Enthüllte Geheimnisse,Seksihullut naiset,Modelo de Luxúria
Description:
I consider MYSTIQUE to be a sort of lost minor masterpiece of the porn chic era.  For starters, the film is an 'unofficial' lesbian reworking of Thomas Mann's classic novella DEATH IN VENICE which was written by Roger Watkins of THE LAST HOUSE ON DEAD END STREET fame.  Apparently, to Watkins' lifelong chagrin, director Roberta Findlay (who curiously directed the film under the male pseudonym 'Robert W. Norman') did not credit him as the writer and he felt that the female director was trying to steal his work.  Like Visconti's DEATH IN VENICE adaptation, MYSTIQUE features music by Gustav Mahler, as well as his spiritual nemesis Richard Wagner.  In fact, the lead character is named 'Alma' (named after Mahler's wife), while the quasi-villain is named 'Cosima' (after Wagner's wife, who famously had problems with Mahler due to his Jewish background).
MYSTIQUE is surely not a work that one watches as a masturbation aid (though I'm sure there are some people out there that will find something arousing about it), as the sex is largely unerotic and rough (including a two-guy-on-one-girl gang rape scene in a bathtub). Also, the film features more plot/storyline than your average fuck flick.  MYSTIQUE is rather 'artful' and 'cultivated' and has a fairly dream-like essence that is accentuated to its beachside setting and classical Romantic score, not to mention incessant dream-sequences (both pornographic and non-pornographic).  In fact, the film oftentimes blurs the line between dream and reality and concludes on a rather 'angelic' note.
MYSTIQUE centers around an aging terminally ill fashion photographer who moves to her beach home and falls in love with a mysterious beautiful young woman that randomly shows up on her beach who ultimately takes over her life, both literally and figuratively.  The film also stars porn chic divas Georgina Spelvin (DEVIL IN MISS JONES) and Samantha Fox (Watkins' HER NAME WAS LISA and CORRUPTION) as the two leads, as well as Jack Teague (DEEP INSIDE ANNIE SPRINKLE) in a stupid-looking old man's wig and Ron Jeremy during his more slim days and porn veteran Randy West as a philstine rapist.
In short, MYSTIQUE is a must-see work for fans of porn chic, Roberta Findlay, and/or Roger Watkins.
Screenshots
Download