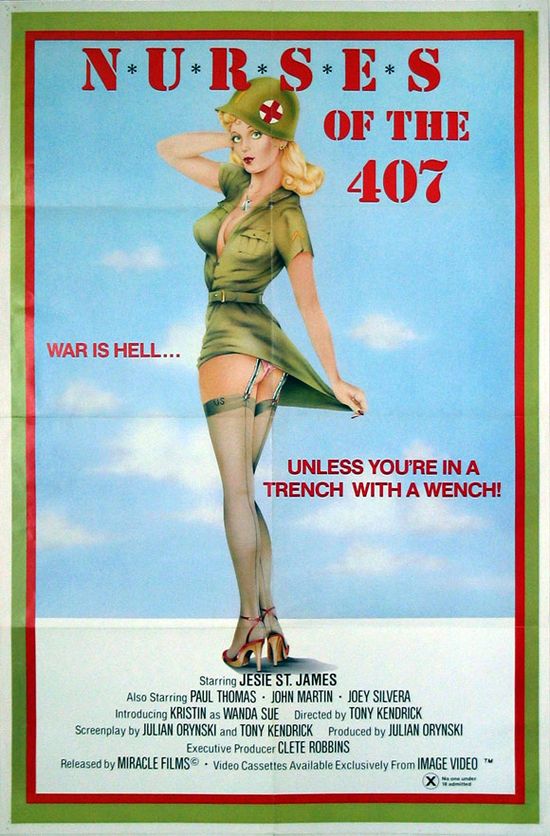 Year: 1983
Duration: 01:14:19
Directed by: Tony Kendrick
Actors: Jesie St. James, Paul Thomas and Jon Martin
Language: English
Country: USA
Also known as: N*u*r*s*e*s of the 407th, As Enfermeiras do Quarto 407
Description: During the Korean War, two irreverent surgeons chase after their nurses and create general mischief at a Mobile Army Surgical Hospital.
Review: This sums up Nurses of the 407th. This is one of the best adult spoofs I have ever seen. It spoofs MASH with the same plot and acting as the late sitcom. In fact, the acting and plot are probably better than most of the sitcoms on TV today. I know I laughed more watching this as I do at most sitcoms. Herschel Savage is a riot as a patient who gets in worse condition the longer he stays in the hospital. Jesie St. James has a hilarious solo scene sweet talking her dildo (Mr. Penis), and is one of the hottest adult film stars I have ever seen. It's sad that she disappeared from the adult film scene so quickly.
The makers of the movie went very much for production values. There are many extras who we never even see in a sex scene, as well as not every scene has a cum shot. Normally I always want to have a 'big finish' to each sex scene, but in Nurses of the 407th, it doesn't detract from the movie. I didn't even notice it until I watched it with the commentary and they mentioned it. One of the other things I noticed was the music. Normally, adult film music seems very generic, where here it enhanced the scenes. Also, it was quite obvious that in many of the scenes, the actors and actresses were having fun, which further enhanced the enjoyability of the movie. In the commentary, they commented on this at length, as well as seeing things such as Jesie St. James having obviuosly real orgasms.
Screenshots:
Download: