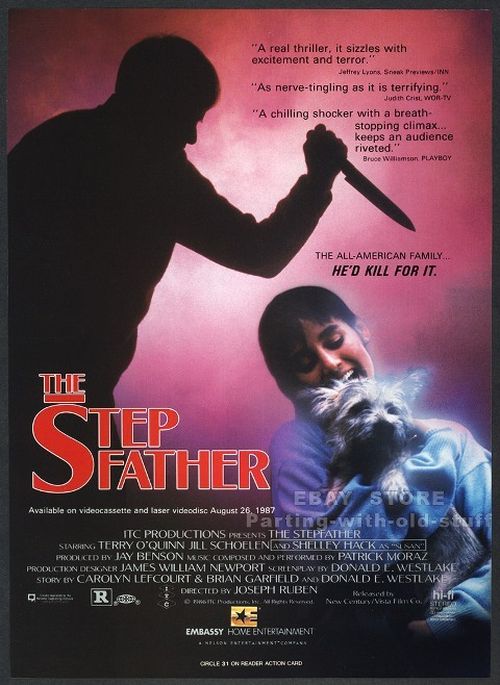 Year: 1987
Duration: 01:25:00
Directed by: Joseph Ruben
Actors: Terry O'Quinn, Jill Schoelen, Shelley Hack, Charles Lanyer, Stephen Shellen
Language: English
Country: UK | Canada
Also known as: A mostohaapa, Assassínios Premeditados, El padrastro, The Stepfather – Il patrigno
Description: Filmed by director of Sister-in-Law movie.
«Stepfather» horror, released in small period of extinction genre «slasher», namely in 86-90-th years of 20 century. This film, few could see the few people he could enjoy. Especially in those times, when the screens went out all new and new parts of Halloween, Nightmare on elm street» and other representatives of the genre, and so was the competition and the audience was tired. But despite the difficult period, the film was still trying to find their connoisseurs.
With one hand in front of us a great Thriller that can highlight some of the problems in the families of the world. Has amazing atmospheric and famously twisted plot. This makes it easy to watch, and sometimes not even think about that before you a horror movie. Plus, we still have a young actor Terry O Quinn, who coped with the role perfectly. His face is visible some charisma, and something in his eyes causes a nervous flutter.
On the other hand – tight Thriller. Exactly – tightened. Whether the writers strongly hurry, whether Joseph Rubin something overlooked when sitting in the Director's chair.
Although the tape and there are a couple of disadvantages, but this did not spoil the view. Fans of the genre this movie, of course, enjoy it, but here's children, widows and divorced women I would not recommend. Too much of the story came out impressive.
Review: The title and marketing campaign of this surprisingly good 1987 film undoubtedly put off a lot of non horror fans, which is a shame as its appeal could have been broader based. It's actually more thriller than horror and was never a big hit, though its now become something of a cult classic. It's well written and directed, though the real star of the show is Terry O'Quinn in the title role. He goes around collecting families the way some people collect cars, though inevitably they all fail to meet his warped expectations. He veers from the patriarch and defender of family values, to the madman who will kill anyone that challenges his views. The rest of  the cast all perform admirably, probably aware that they are not working on some run-of-the-mill thriller. In addition to the main thrust there are some t&a shower scenes and black humour aimed at the 'family values' crowd. Highly recommended.
Screenshots:
Download: