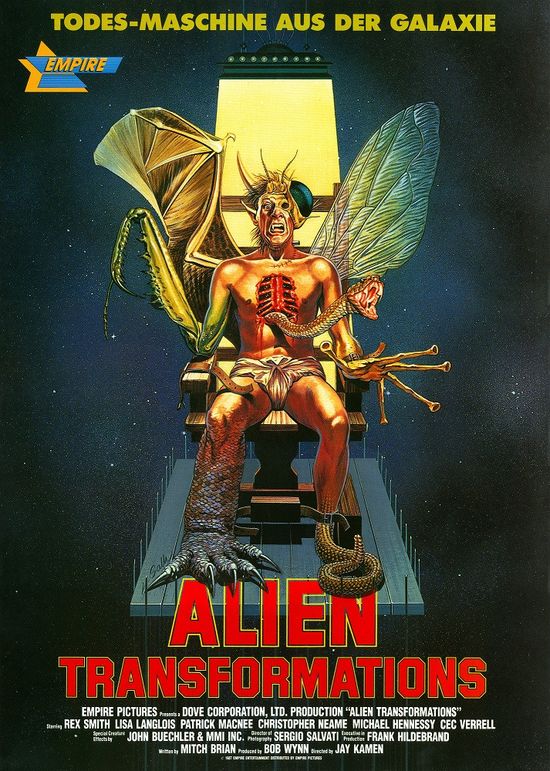 Year: 1988
Duration: 01:22:44
Directed by: Jay Kamen
Actors: Rex Smith, Lisa Langlois, Patrick Macnee
Language: English
Country: USA
Also known as: H4 La planète sans retour, Transformer… e la bestia sorgerà dagli abissi, Alien Transformations
Description of Transformations movie: Wolfgang is traveling in outer space, when an alien succubus disguised as a beautiful woman, appears in his spaceship and makes love with him.  Shortly after,his ship malfunctions, and he is forced to land on a planet called Hephaestos IV, which is a penal colony.  Here he meets Miranda who falls in love with him.  A group of prisoners use him and his spaceship to try and escape the planet. But the alien which is now inside Wolfgang awakens, and only Miranda's love can save him. (yes your gonna need to be drunk or stoned before watching)
Review: Jay Kamen 's first film as a director. Appear in the media , he was very limited , so he had to "invent" to give a real space scenes entourage. It did not always work as we would like. For example , a spaceship with a keel like in ocean yacht , looks , to put it mildly , strange. As " occupational therapy " convicts who have 10 years mining coal ! (Interestingly , at this very coal fly spaceships ? Or sell it in the next galaxy at a reasonable price ? ..)
The manner in which the protagonist was on prison planet will not touch , although it determines all further development of the plot . Appearance of woman – vision – succubi – gives piquancy happening , but raises new questions: how " reified vision" penetrated the ship? .. However, so deep " dig " is not necessary, because the plot is very simple – Succubus (played by Pamela Prati she looks very sexy ) – " awarded " Shaddaka strange plague that he – this same plague – spread in the colony the most natural way , because demoness visiting night young men , causing them sharpened voluptuous dreams requiring discharge as contacts with all new partners. What Shaddak and engaged in the colony.
We must pay tribute D. Keymenu : scene at the bar , as well as costumes, makeup , hairstyles, some female characters – at altitude. It is a pity that such episodes a little , because the development of the main plot is not particularly intrigue , however, as the actions of prison staff . It looks naive, silly, unnatural. The greatest interest was acting Patrick Macnee (father of Christopher ) and for her role as Miranda – Lisa Langlois ( purely because of their physical data ) .
Final overshadowed all the positive moments of the film . If the behavior is fluent "trinity" is still possible to take more or less according to the image of convicted " of coal " , the final transformation Wolfgang Shaddaka nothing but bewilderment causes .
Screenshots:
Download: