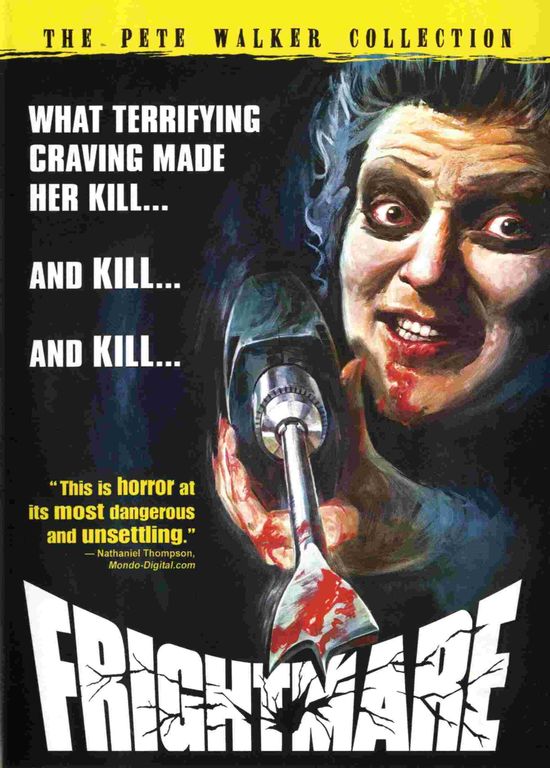 Year: 1974
Duration: 01:22:42
Directed by: Pete Walker
Actors: Rupert Davies, Sheila Keith, Deborah Fairfax
Language: English
Country: UK
Also known as: Psicópatas, Terror sin habla, Nero criminale – le belve sono tra noi, Smak på människokött, Cover Up, Once Upon a Frightmare
Description: 'Frightmare' is probably Pete Walker's most lauded piece and certainly one of my favourites of his. It plays a lot like one of those quota quickie flicks made in the UK in the fifties and sixties by companies such as Butchers films, but with added threat and bloody violence. The atmosphere reeks of mid-seventies Britain: a claustrophobic, dead-end hopelessness pervades everything.
The real reason to see the film, though, is for the outstanding performance by Sheila Keith as the cannibal mom. To quote Nate Yapp from classic-horror.com:
"Keith's Dorothy is the is the epitome of the passive-aggressive mother – vacillating between strong and weak, smart and feeble-minded, attentive and disoriented as the situation demands. Keith always makes it clear to the audience that above all else, it is her character's manipulative side that is in control, and that all other emotions are a mask, a deception. In one scene, she is able to present a bewildered, senile old woman to combat Jackie's accusations of a relapse and then, mere minutes later, wolfishly ask an awful favor that she posits as completely harmless. The kind of skill with which Keith imbues her portrayal makes it clear why Walker used her in his films more than any other actor."
Enjoy this bleak, nasty little slice of Britsploitation
Review: Edmund and Dorothy Yats spouses are already a lot of years. United by their marriage not only having kids , but also a common disease of mental properties . Treatment lasted 15 long years , and ended with Edmund and Dorothy again feel the scent of freedom. But God forbid someone now stand in their way !
The film "Frightmare", shot by renowned British horror master Pete Walker, I watched a couple of years ago, but this picture I still remember . Currently, "The Last Fright " thoroughly forgotten and is only a memory of true fans of horror films .
Feed exclusively in the British kept in their style , and even the fact that the picture is low-budget and all its operation is limited almost the same location , it adds a certain charm to it . Belonging to the slasher genre , this film does not look very bloody and brutal , because the horror is created thanks to a powerful camera work by Peter Jessup , creating an oppressive atmosphere in the film , and a bright acting Rupert Davies and Sheila Keith .
Soundtrack Stanley Myers nothing special in the film not only stands out and at the right moments creates suspense .
I recommend this little-known horror to all fans of classic horror movies and just fans of the genre .
Screenshots:
Download: